India, a prominent player in the global economy, has forged strong friendships with nations around the world. As Prime Minister Modi's "Atmanirbhar Bharat" mission drives India towards self-reliance, the country has become an attractive investment destination for entrepreneurs from various industries. Maintaining positive relationships with foreign nations has become more crucial than ever in the wake of the global pandemic.
Here are India's top 10 friends, with whom the country shares economic, cultural, and diplomatic ties:
1. Russia: India and Russia have a longstanding partnership, engaging in scientific, commercial, cultural, and economic activities. Both countries have made significant investments in each other's economies, particularly in sectors such as BPO, automotive, infrastructure, nuclear power plants, coal, and medicine.
2. USA: The bond between India and the United States has grown stronger over the years. Both countries prioritize respecting human rights, treating all citizens equally, and ensuring fair trade. Bilateral trade between India and the USA reached almost $149 billion in 2019. Indian students studying in American colleges contribute to the US economy, while Indian businesses are encouraged to tap into the US market.
3. Japan: India and Japan have cultivated a deep friendship, with strong cultural and technological ties stemming from the spread of Buddhism. Bilateral trade between the two nations amounted to $17.63 billion in 2019. India exports various goods to Japan, including fish, apparel, textiles, iron and steel, while Japan supplies India with non-ferrous metals and electrical equipment. Both countries are focused on digital ICT technologies and are working together to strengthen this sector.
4. Israel: India and Israel collaborate closely in defense and agriculture, with a partnership dating back to 2014. India's defense capabilities have been enhanced through the acquisition of defense equipment from Israel. Both countries work together on agricultural innovations, benefiting Indian farmers through initiatives like the 30 Centers of Excellence Project.
5. Afghanistan: Due to their geographical proximity, India and Afghanistan have long-standing ties. The nations exchanged $1.5 billion worth of products in 2020. Efforts are underway to facilitate trade between the two countries, including the establishment of an Air Freight Corridor. Both countries share a common goal of helping each other and contributing to regional stability.
6. Bhutan: Bhutan and India share a common interest in the growth of Southeast Asian nations. Trade between the two countries has been increasing, and discussions have taken place on enhancing economic routes and border trading. India has provided financial support to Bhutan for various development projects, and efforts are underway to develop new trade regions for investors.
7. Myanmar: India sees Myanmar as a potential gateway to other East Asian nations. Efforts are being made to develop markets, railways, and shipping facilities along the border. India's investments in Myanmar are mainly focused on the oil and gas industries, with potential future investments in food processing and renewable energy.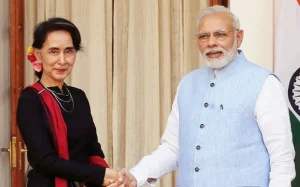 8. Maldives: The Maldives, located in the Indian Ocean, plays a crucial role in India's global economy. The two countries share linguistic, cultural, and economic interests. India has been supportive of the Maldives during times of natural disasters and other challenges. Efforts are being made to further strengthen bilateral relations.
9. Sri Lanka: India and Sri Lanka have a strong commercial relationship, collaborating in areas such as health, transportation, education, infrastructure, and industry. Indian businesses are actively involved in sectors like tourism, finance, telecommunications, and retail petroleum in Sri Lanka. Efforts are being made to explore new perspectives and expand cooperation in logistics and freight businesses.
10. Australia: India's economic relationship with Australia has been expanding rapidly, with Australia now being India's seventh-largest trading partner. Both countries have significant trade interests, with India importing medicines, refined petroleum, pearls, and diamonds, while exporting gold, coal, and copper. Australia also provides educational opportunities to Indian students and invests in sectors such as clean energy, space, and essential minerals.
India's friendships with these nations extend beyond mere economic ties. Cultural exchanges, diplomatic collaborations, and mutual support during times of need have strengthened these relationships. As India continues to grow as a global economic powerhouse, these alliances will fuel progress and prosperity for both India and its friends around the world.