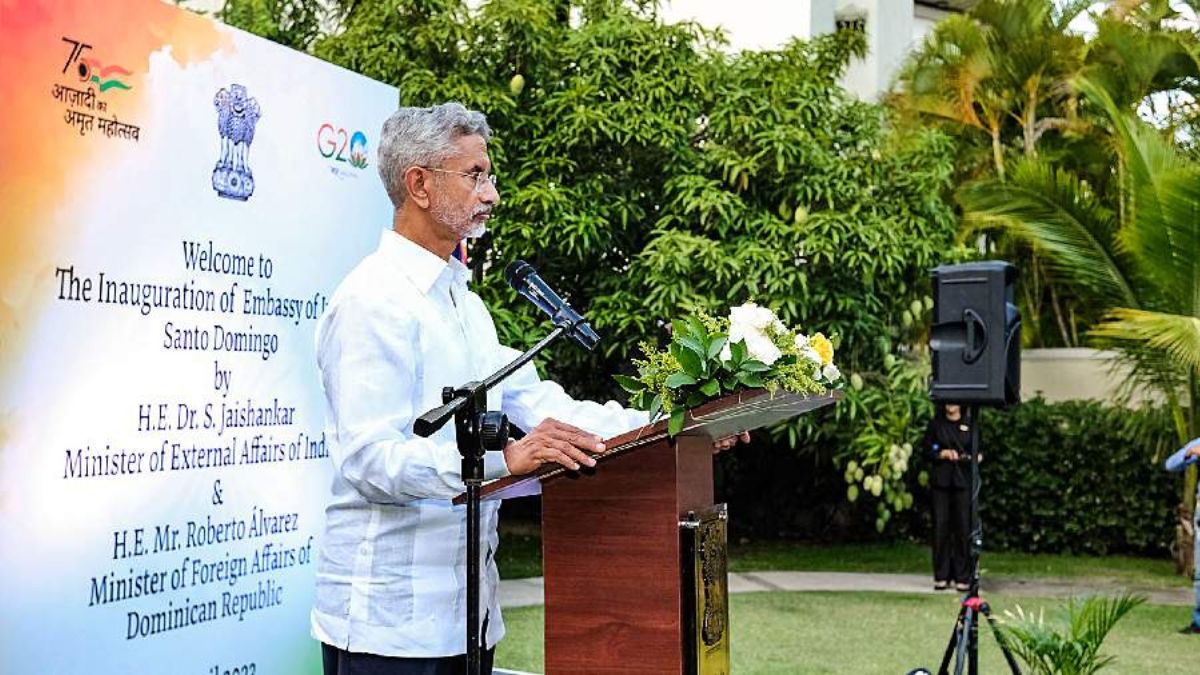 China falls into a slightly different category due to the current "abnormal" nature of relations, which is a result of Beijing's violation of border management agreements. However, India wants to ensure that relations with all nations advance without pursuing exclusivity, according to External Affairs Minister S Jaishankar.
On his first official visit to the country, Jaishankar arrived in Santo Domingo. He also stated that connectivity, contacts, and cooperation between India and the region have risen significantly. Speaking to the diplomatic community and future diplomats at the Dominican Republic's diplomatic school on Friday, he noted that Pakistan continues to be an exception to this rule due to cross-border terrorism.
"Whether it is the US, Europe, Russia, or Japan, we are trying to ensure that all these ties advance without seeking exclusivity. China falls in a somewhat different category because of the boundary dispute and the currently abnormal nature of our ties. That is an outcome of a violation of agreements regarding border management by them," Jaishankar stated.
He claimed that the parallel time-frame of China and India is not without competitive portions. "When in other regions bid for Africa, the Pacific or Latin America, much of what is happening can be explained as the emergence of India's potential global footprint. In many cases, it is the result of autonomous forces such as business or mobility," he stated.
India has been criticising China for violating agreements on border management by deploying a significant number of troops and acting aggressively near the Line of Actual Control in eastern Ladakh.
This week, India made it clear to China that breaking the border agreements has "eroded" the basis of their bilateral relations and that any disputes over the border must be settled in accordance with the existing agreements.
Following a violent clash near Pangong Lake on May 5, 2020, the eastern Ladakh border standoff broke out. Following the fierce clash in the Galwan Valley in June 2020, which was the most significant military conflict between the two sides in decades, relations between the two nations took a sharp turn for the worse.
Jaishankar continued in his speech by explaining how India engages Latin America, how it views the rest of the globe, and what the future of India should look like.
"India's most pressing priorities are obviously in its neighbourhood. Given its size and economic strength, it is very much for the collective benefit that India takes a generous and non-reciprocal approach to cooperation with smaller neighbours. And that's exactly what we have done in the last decade under Prime Minister Narendra Modi…," he stated.
"It has seen a dramatic expansion in connectivity, contacts, and cooperation across the region. The exception to this of course, is Pakistan in view of cross-border terrorism. But whether it is the COVID challenge or more recent debt pressures, India has always stepped up for its neighbours," he stated, citing the example of Sri Lanka, where India provided the island country with more than USD 4 billion in financial support during its worst economic crisis in decades.
India is pioneering the idea of extended neighbourhoods, according to Jaishankar. With ASEAN, this has taken the form of what New Delhi refers to as "the Act East Policy," which has paved the way for a deeper engagement with the Indo-Pacific region, which is being pursued, among other ways, through a mechanism known as the Quad, which is made up of India, Japan, the US, and Australia.
He emphasised the I2U2 (India, Israel, UAE, and USA) grouping's attitude towards the West. To the south, India's view is known by the term Sagar, which is an Indian word for oceans, and to the north, India has been pursuing a strategy to more efficiently connect to Central Asia.
"For the first time in 2015, Prime Minister Modi articulated a comprehensive view that spanned the entirety of the Indian Ocean and its islands. This subsequently became the building block for the Indo-Pacific vision that emerged thereafter," he stated.
"We are also practising the approach of engaging all major centres of power. Such multi-alignment reflects the reality of multipolarity. Obviously, each engagement has its own particular weight and focus," he continued.
The minister of external affairs claimed that India has consistently been a steadfast supporter of multilateralism. "We believe that this is fundamental to the maintenance of global order. Our contributions have been significant over the years, especially in peacekeeping. The challenge, however, is the resistance to reforming multilateralism, particularly the working of the United Nations and its bodies," he said.
He stated that when more nations see the UN is unable to address urgent concerns, they will come to agreements among themselves.
"Overall, India is a nation that is deeply committed to promoting collective solutions for global good. Our presidency of the G-20 this year is devoted to focusing on the real challenges to global development and global growth," he continued.
He stated that there had been a deliberate development of India's relationship with Latin America during the past ten years. Today, "our trade with Latin America is approaching a volume of USD 50 billion." Separately, Jaishankar stated in his remarks at the India-Dominican Republic Business Event held here on Friday that the two countries' trade turnover has surpassed USD $1 billion.
A joint economic and trade cooperation (JETCO) mechanism had been the subject of final negotiations between the two nations, he said, and it was hoped that it would serve as a venue for ongoing discussions about potential for economic and business collaboration between the two sides.