USA Men's basketball was as usual loaded with superstars with the only centre position that was their weak spot, with most centres in today's era being foreigners. The team had ultimate scorers like Damian Lillard, Jason Tatum, Zach Lavine, Devin Booker and Khris Middleton who joined the team after their NBA finals were over, even with all this firepower in the starting lineup with Kevin Duran himself team USA had an unpleasant start. They lost their first two exhibition matches back-to-back matches against Nigeria and Australia, coming into the game team the USA was 54-2 in the exhibition games but lost two straight games against a team (Nigeria) whom they defeated by 83 points 9 years ago, KD had an off night with just 17 points on 2of 11 shooting. Their loss to Australia was alarming for many fans and media and narratives started to form that team USA might not bring their 4th consecutive gold medal home, this narrative was boosted after the USA lost in FIBA and came 7th.
Team USA was struggling with the physical defence and stars not getting the calls that they were usually able to draw in NBA, they were poised as "soft". After losing back-to-back games, their unquestioned leader KD took the matter into his own hands and set the tone earlier against Argentina by scoring 8 of his total 17 points in just the first quarter and then another win against Spain.
After gaining momentum in the exhibition round, the USA lost their first preliminary game against France by 83-76, again team USA was questioned because of their lack of consistency, and KD's leadership was questioned. Since that point they never looked bad, after a disappointing performance against France, the USA embarrassed Iran by a whopping 54 points win and another 35 points win against the Czech Republic with KD scoring 23 points.
WE THE BEST IN THE WORLD! OLYMPIC GOLD MEDALISTS! what a journey, what an experience and i'm excited to share it all with you. the final Tokyo vlog out now on my @youtube channel! https://t.co/ujpy4xq4nD pic.twitter.com/Elze5ydBjx

— Javale PIERRE 3Xs McGee (@JaValeMcGee) August 16, 2021
KD and the Team USA now in the quarter-finals went up against the Gasol brother and Spain, KD with a chip on his shoulder to bring the 4th consecutive medal home was determined, he scored 29 points on only 10/17 shooting from the field and 4 of 7 from behind the arc. In the semi-finals again KD who led the team in scoring put a tar-studded team on his back to reach the finals of the 2020 Tokyo Olympics with 23 points and a blowout win by 97-78. KD's finals performance was glory game for 2 times champion, he showed why his name should be among the best player in the world, this game proved that one time MVP has the greatest Olympics resume, he for the 3rd time and most by any player led the team in scoring in the finals with another spectacular 29 points of which 20 were scored in the first half to pickup up sluggish start by his teammates.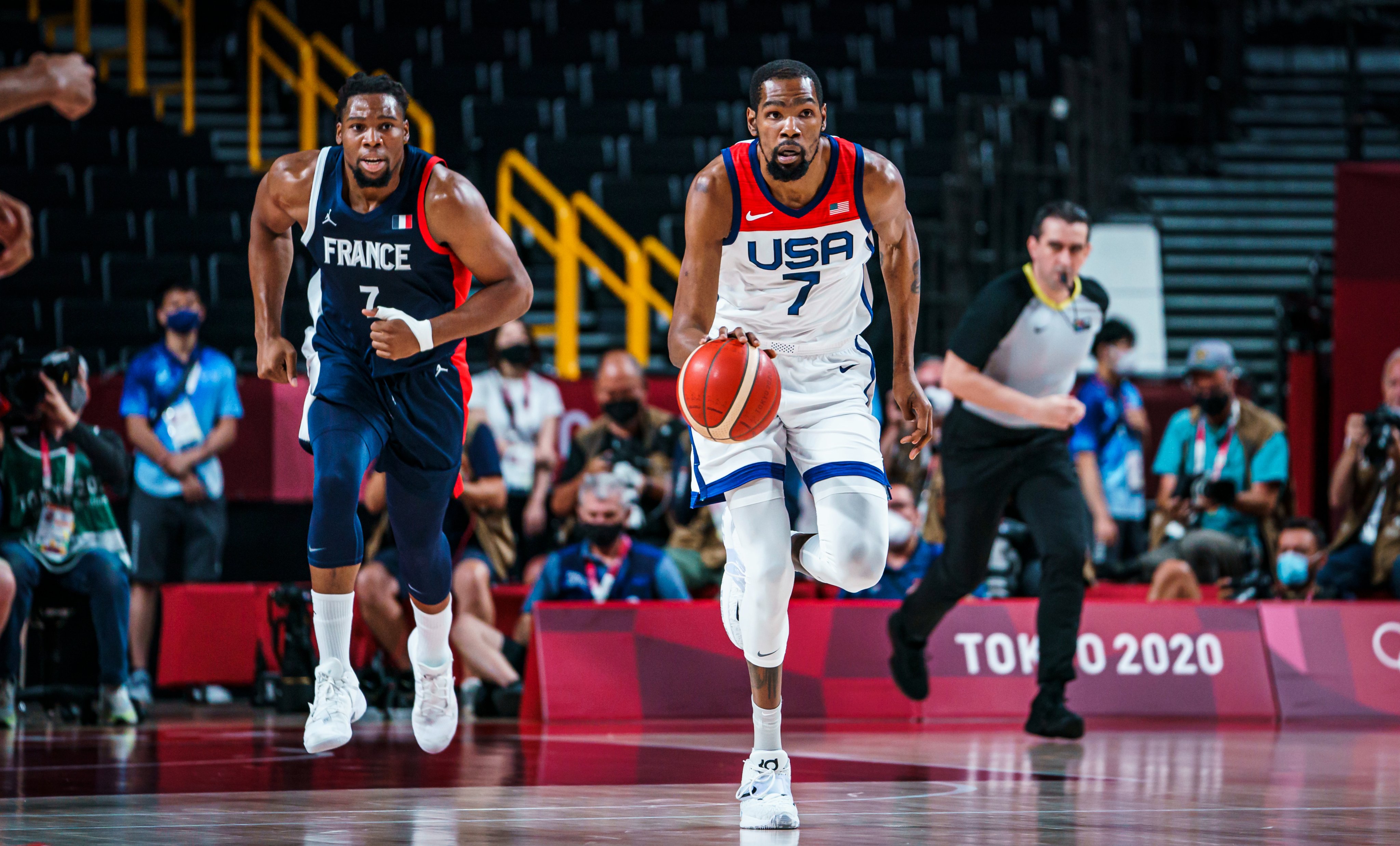 KD's legacy in Olympics has been defined as the best Olympian basketballer, his closest is Carmelo Anthony who also has won 3 gold medals for the USA. Durant was not selected in the 2008 redeem team after a disappointing loss against Manu Ginobili's Argentina in 2004 as he was just a freshman, but his partition in the 2010 FIFA World Championship made him earn his first gold medal. He was then a major part of the 2012 Olympics and led the USA in scoring even with Lebron, Kobe being his teammate, he scored 156 points which is the all-time highest points on the Olympics. One time Finals MVP scoring prowess has always been appreciated, but his scoring in team USA has been over-looked, he became the first player ever in the history of the USA Olympics to score 30 points in a finals game that also when he was just 23 years old, in 2016 Rio Olympics no player has ever the team in scoring multiple times but KD in 2016 scored 155 points which are 2nd most behind his record and led the team 2nd time in scoring.
Nets superstar is the all-time leading scorer in the Olympics and will look to continue the same type of success in the NBA after a disappointing loss against Giannis and the Bucks in round 2 of game 7. His eyes are set on the NBA championship and with his new superteam of James Harden and Kyrie Irving to hold the crown for the 3rd time in his life.
🥇 3x Olympic gold medalist
🏆 2010 @FIBAWC MVP
🔢 U.S. Olympic Men's Team's all-time leading scorer

The elite of the elite. Salute @KDTrey5 🙌 pic.twitter.com/ibxoJU7iGJ

— USA Basketball (@usabasketball) September 30, 2021