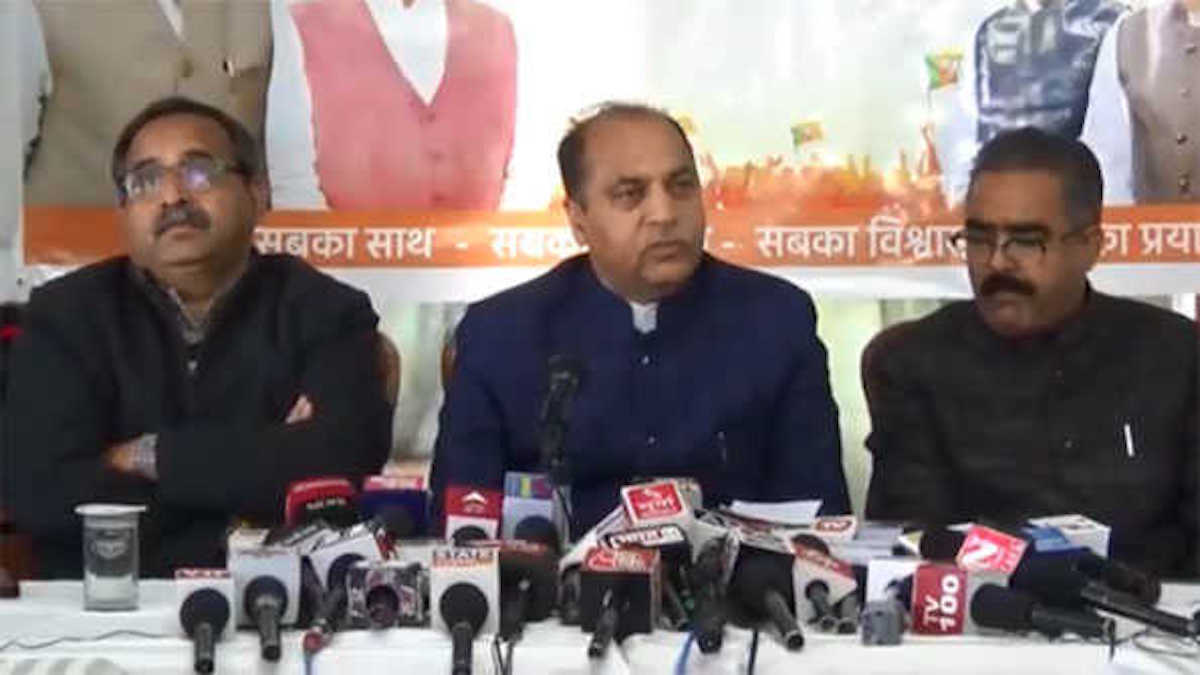 The opposition BJP and Congress in the state are head on against each other after denotification of number Institutions by Sukhvinder Singh Sukhu government a month ago.
Barbs are being hurled by two on each other to score Poltical points. Former CM Jai Ram Thakur addressed Media person here today blaming the state government to became laughing stock on several controversial decision. He said that Deputy Chief minister Mukesh Agnihotri behaving like defecto CM and a letter rote by Mr Agnihotri making rounds which complaint style of Sukhvinder Singh Sukhu to party highcommand. He said that Mr Sukhoo had been denotifed 516 Institutions opened by previous govt are being opposed by People vehementaly. moreover his decision to induct six Paralimentary Secretaries on the controversial CPS act which was held Office of profit and challenged unconstitutional by various court ruling , Former Chief minister pointed out.
Jai Ram Thakur also lashed out the decision of poltical appointment of CPS and Çabinet induction terming it to burden the state coffer and recovering its expenses from public pickets by increasing VAT on diesel. Rebutting the above mentioned Press conference made by Jai Ram Thakur newly inducted duo of Minister Anirudh Singh and Vikramaditya Singh have advised the former Mr Thakur to restrain from issuing baseless and unwarranted statements in a bid to remain in news. In a Press release issued after the press conference they said" it was surprising the former Chief Minister was time and again raising the issue of de-notification of the institutions opened by the previous BJP Government in the fag-end of its tenure with an eye on the general assembly elections.
All these institutions were opened and upgraded with a sole motive to woo voters without any budgetary provision and irrational thinking. They said that the State Government has decided to wind up such institutions and all these would be reviewed and if found to be viable and if required would be opened after making proper budget provision.Ministers said that the present Cong rule has inherited a debt burden of over Rs. 75000 crore due to the financial mismanagement of previous Government and also have left financial liabilities of about Rs. 5,000 crore on account of opening Institutions and unproductive expenditure of the previous State Government that the present State Government has been forced to take this harsh decision to enhance VAT on diesel in the State.
Anirudh and Vikramaditya Singh said that after crushing defeat in 2021 Mandi Parliamentary by elections and by-elections to three assembly seats i.e. Arki, Jubbal-Kotkhai and Fatehpur the then State Government reduced VAT on Petrol and diesel by Rs 7 per litre. He said that the BJP Government was forced to take this decision in panic after its 4-0 defeat in these by-elections.
The Ministers said that the allegation of the former Chief Minister regarding appointment of Chief Parliamentary Secretaries was also uncalled for. They reminded the former Chief Minister about the appointment of a large number of Chairmen and Vice Chairmen in various Boards and Corporations. 'All the dejected and rejected second-line leaders were appointed Chairmen and Vice Chairmen with a sole objective to adjust them by allotting plum postings,' they added. However Minister couldn't not defend the decision on price difference. It is worthwhile to mention that decision to hike the Diesel VAT was taken after complaint of smuggling of Diesel from Himachal Pradesh to Harayana and other border states. State government decided to hike VAT om Diesel as fuels are being smuggled to other State from Himachal Pradesh as it was Rs 12 per litre dearer out side now with increasing VAT it is sox rupees dearer.