LA Lakers is the wonderland for any NBA player, every player grew up to either love the Lakers because of their greatness or despise them because of their greatness. LA has always been a top market franchise of the league, they have the most numbers of titles tied with the Boston Celtics at 18.
18 times champions, the Lakers have never been strange to a star-studded team, for example, the newly formed superteam of LeBron James, Anthony Davis, and Russel Westbrook. Any record we can look at for an individual player, there is a possibility that that player has worn the Purple and Gold, like Kareem Abdul Jabbar, Lebron James, Kobe Bryant, Wilt Chamberlain, Shaq, etc. are all on the top 10 highest scoring leader, same goes for assists Magic Johnson and Lebron James both are again in the top 10 of assists leader and again for rebounds as Wilt Chamberlain, Kareem Abdul Jabar, and Karl Malone are also in the 10 top rebounds leaders. I think we get the idea for steals, blocks too.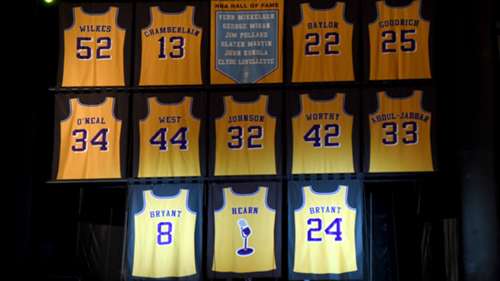 To take a look at how great the Lakers became, let's look back at the history when they were known as the Minneapolis Lakers. Lakers was the first team ever to three-peat. Minneapolis Lakers were led by the great George Mikan, a 6'10 centre who dominated the late 1940's to 1950s and is often recognized as the first superstar of the league. Mikan won his three straight NBA championships in 1952, 53, and 54, because of his greatness on the court as a big man, he paved the way for the other big men too.
After the reign of Mikan, the Lakers were in a downfall even though they made playoffs for several years they were not the finals contenders. Then came the great Elgin Baylor, he was a relentless scorer who can score at will, he scored 71 points in a game on November 15, 1960, which now stands at 3rd highest points in a game by an individual, he scored 61 points to go with 23 rebounds in the NBA finals which is still a record of highest points in the finals by an individual. A 10-time all-NBA first team and 11 times all-star selection, he was inducted in the Hall of fame in 1977. Even though he never won a championship he still had a partner in crime, a player who was ahead of his time The Logo, Jerry West, who himself was a scoring machine, he averaged 41 points per game in NBA finals, which is still the highest scoring average in NBA finals, he is the one and only player ever to win Finals MVP in a losing team. Even then after so many tries Baylor and West could not get in done in the finals, thus they added the Big Dipper, Wilt Chamberlain, whose numbers are so out of the world that we don't even consider it like 100 points in a game, averaging 50 points and 24 rebounds per game. It was the first time a "superteam" was created. Finally, in 1972 they got over the hump and won the NBA finals in 1972, and Wilt was named the Finals MVP.
Now came the golden era of Lakers, THE SHOWTIME LAKERS
In 1975 Lakers made a trade for another great big man, who was an NBA champion and multiple times MVP winner and hired Jerry West as their coach even then they could not get over the hump, but everything changed during the 1979 draft, having acquired the first overall pick from the Jazz. LA selected 6'9 Point Guard Irvin Magic Johnson. The fast-paced offence led by Magic making flashy passes to open players and cutters giving them the name of Show Time Lakers, they won 60 games that season and went to win NBA finals in 6 games in which injured Kareem could not play so Magic had to start at centre and finished with 42 points, 15 rebounds, and 7 assists. He became the first rookie ever to win Finals MVP. Then they went to win another title in 1982 against Sixers again in 6 games even after winning the title they got first to pick overall and selected their third partner in crime James Worthy, who was later given the nickname of Big Game James for his ability to show up on big games, lakers who helped to contend for years, after a tough loss in 1983 by Sixers and 84 by Larry Bird's Celtics, which in my opinion is still the greatest rivalry in NBA history. Showtime Lakers then went on to win three more titles in 1985, 87, and 88 but then lost to Pistons in 1989 as their starting two-guard Byron Scott was injured and then Magic pulled his hamstring in the second half of game 2. This was the end of Showtime Lakers and was the start of bad boys Pistons and Michael Jordan.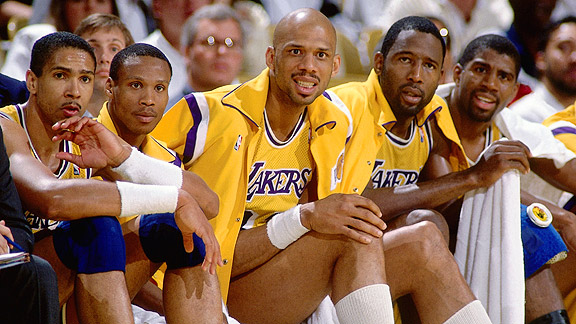 KOBE AND SHAQ LAKERS
In 1996 Shaq was traded to the LA Lakers, at that time Shaq was one of the best big men in the game. After 2 years, in 1998, Charlotte Hornets acquired Kobe as the 13th overall pick and was traded to the Lakers, Kobe and Shaq became an unstoppable duo, from 2000 to 2004 they dominated the NBA like no other, they went back to back to back and won championships in the year 2000, 01, and 02. In these finals Shaq averaged  35.9 points, 15.2 rebounds, 3.5 assists, and 2.9 blocks per game on 59.5% shooting, this was domination at a level like we have never seen before, they have the best record in playoffs of 15-1 that also going through a far tougher western conference.
After the feud between Shaq and Kobe, Shaq was traded to Miami Heat and Kobe was now the lone superstar on the team, with his supporting cast only being below average Kobe managed to keep them in the playoffs contention as 7th seed by averaging 35.4 points per game in 2006 and 31.6 in 2007, after Lakers acquire Pau Gasol from Grizzlies, they became an instant champion contender but ended up losing to their long time rivals the Celtics in 2008. To avenge that loss Kobe and the Lakers managed to win the 2009 NBA finals against Dwight's Orlando and then finally defeating Boston Celtics in game 7, and winning the NBA finals in 2010. Kobe was named finals MVP in both the 2009 and 2010 finals.
LeBron James joining Lakers in free agency
After Kobe's retirement Lakers were in a rebuilding phase, they could not qualify for the playoffs in the past 5 years but in 2019, Magic Johnson helped to recruit LeBron James who was a free agent at the time, even though Lebron got injured during the 2019 season and Lakers again could not make the playoffs, they were able to trade all their young assets like Brandon Ingram, Lonzo Ball, Josh Hart, and some picks to acquire a skilled, talented and dominating big men Anthony Davis. This directly resulted in winning the NBA 2020 championship in the bubble against James ex-team Miami Heat in 6 games, both Lebron and AD dominated the bubble. In the NBA 2021 season after the shortest break in the history of American sports (71 days), the Lakers were bombarded with injuries from Anthony Davis to LeBron James to KCP got injured, and were knocked out in the first round. Now Lakers have again revamped the team and created a superteam by adding former MVP Russel Westbrook and solid shooters like Wayne Ellington, Trevor Ariza, Malik Monk, etc. This will be an exciting season to watch as two superteams will go head to head and might meet in the NBA finals and the Lakers might be able to raise their 19th banner of the 2021 NBA championship
— Los Angeles Lakers (@Lakers) September 29, 2021