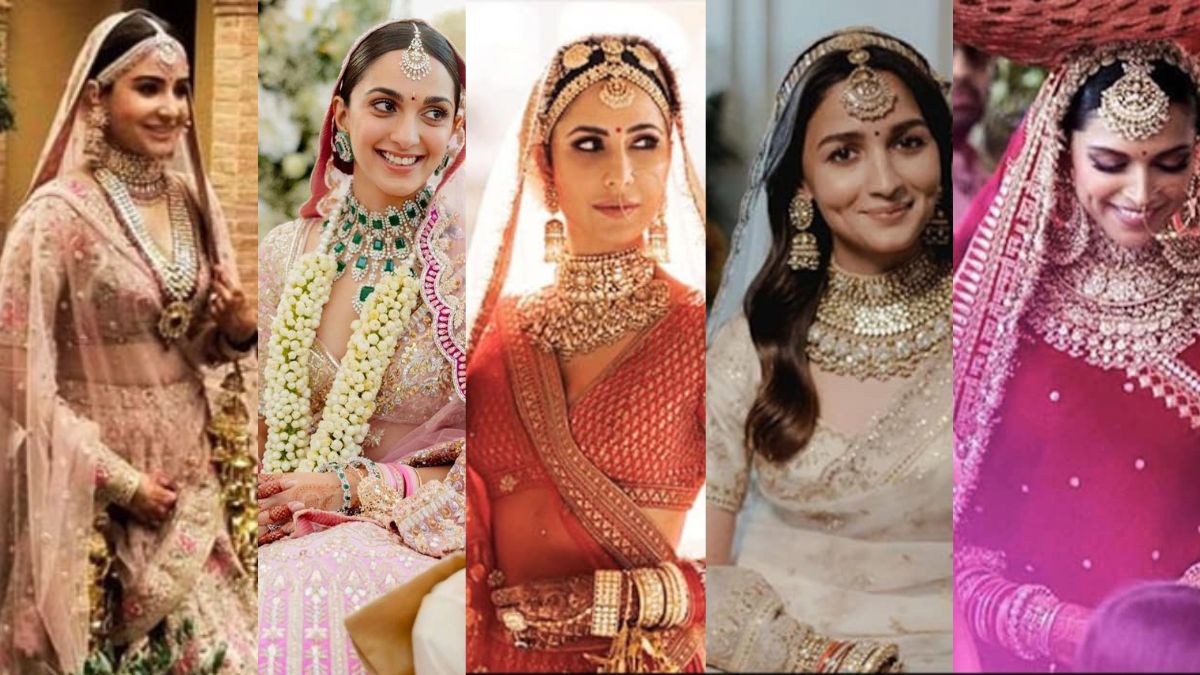 Bollywood weddings are the new royal marriages. Although all weddings are unique in their own way, Bollywood weddings are among the most talked about. From their hairstyles to their shoes, Bollywood celebs never feel inclined to organise a unique and wonderful wedding. Many gorgeous couples in Bollywood arrived to their destination of love life through marrying.
1. Katrina Kaif and Vicky Kaushal 
On the list of Bollywood weddings, we begin with a lovely pair who married on December 9, 2021. Their wedding had the greatest glitz and grandeur of any Bollywood wedding. The royal hotel six sense fort bharwara hosted their wedding. Katrina and Vicky's wedding was a small gathering of family and close friends. This was the most opulent Bollywood wedding ever. Their wedding cannot be described in words. Many Vicky and Katrina supporters are hoping for good news from the duo. The wedding of Katrina Kaif and Vicky Kaushal was nothing short of magical.
2.Alia Bhatt and Ranbir Kapoor 
The second item on the list is We have Alia Bhatt and Ranbir Kapoor at Bollywood weddings. This lovely Bollywood couple married on April 14, 2022. One of the most glamorous Bollywood weddings was Alia and Ranbir's. Their wedding invitation only invites about 23 to 25 guests, but their love for each other was limitless. Alia looked stunning, whilst Ranbir appeared to be handsome. On Instagram, many celebrity couples wish them well for the future.
3.Deepika Padukone and Ranveer Singh
Deepika Padukone and Ranveer Singh had been secretly engaged for four years before they married in 2018. Their wedding was one of the most publicised in Bollywood. The power couple married on November 14th, 2018 in Italy and made their first public appearance as a married couple four days later at Mumbai airport. Their wedding was one of the pre-planned Bollywood events. The pair celebrated their third wedding anniversary last year. Deepika Padukone and Ranveer Singh stunned us with their big entrance at the reception following the wedding. The two appear to be the royal coupling of our dreams. Their wedding was one of the most regal and anticipated in Bollywood.
4. Anushka Sharma and Virat Kohli
The cricketer and the actress tied the knot on December 11 2017 in Italy. Anushka Sharma looked stunning in a pale pink Sabyasachi lehenga. The couple has a daughter named "Vamika" now. Their wedding was probably one of the most gorgeous, anticipated, and talked-about weddings of 2017. Following their wedding, the couple threw two magnificent wedding receptions, one in Mumbai and one in Delhi. Their followers wish them the best of luck in their future endeavours. Another magical Bollywood wedding has taken place. The pair celebrated their fourth wedding anniversary last year.
5. Sidharth Malhotra and Kiara Advani 
Sidharth and Kiara married on February 7 in a regal wedding ceremony at Suryagarh Palace in Jaisalmer, Rajasthan, after keeping their love affair a secret for the longest period. The wedding was attended by intimate friends and family members. They also held pre-wedding rituals such as haldi, mehendi, and sangeet. In Mumbai, the newlyweds staged a lavish wedding reception for their industry pals. Fans are still buzzing about their romantic wedding video and photos on social media.