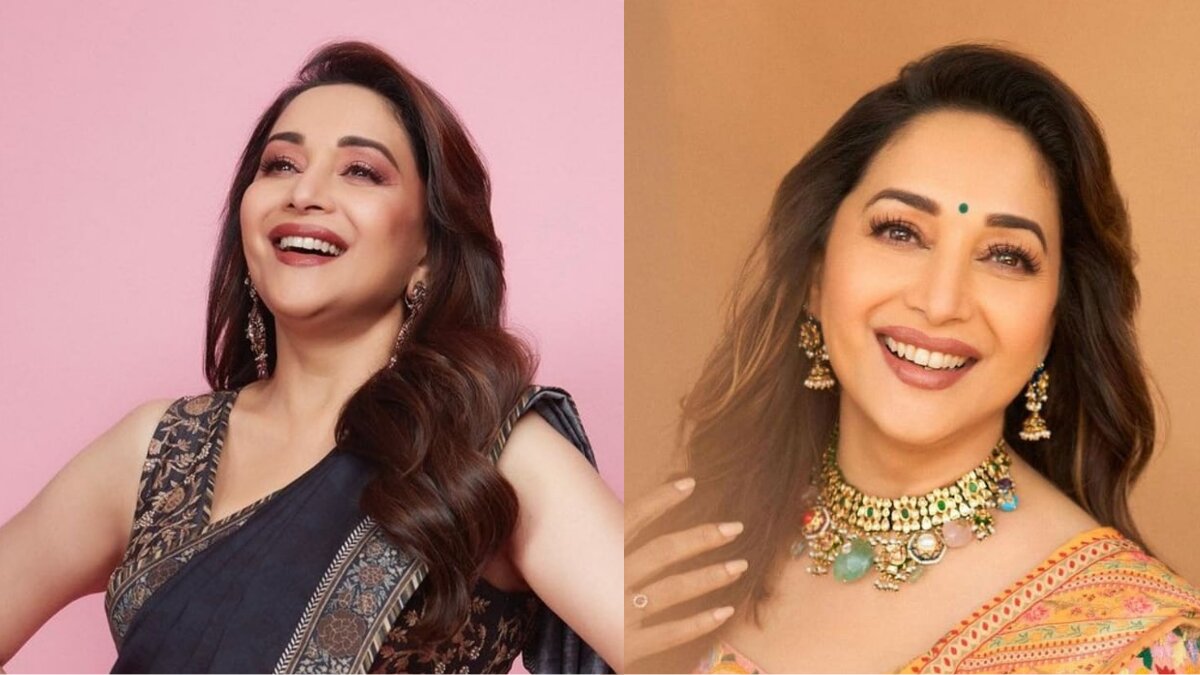 courtesy-Instagram
Madhuri Dixit Nene, the timeless beauty who captivated everyone with her dancing and acting skills has turned 56 today, The time surely flows with the speed of light. However, the Dhak Dhak girl is still the same, ageing like a fine wine and enchanting everyone with just her presence and aura.
Madhuri has given countless unforgettable performances to her fans that we just can not dare to forget whether it's her amazing acting skills or her aura when she decorates the stage with her graceful and elegant dance moves and heartshaking expressions, Madhuri is always at her peak.
Here are the Top 5 iconic dance performances by Living Legend Mathuri Dixit that every fan and Dance Lover should know:-
5] Didi Tera Devar Deewana
The super successful song from the superhit movie 'Hum Aapke Hai Kaun' Starring Madhuri Dixit, Salman Khan, Renuka Shahane, and Manish Bahi in lead roles. The song was very successful as it grabs the attention of everyone right after its release. Madhuri Dixit was successful as always in spellbinding the audiences and viewers with her clear dance moves and extraordinary expressions. however, what makes this song even more lovable is the chemistry between  Nisha and Prem, played by Madhuri and Salman respectively.
Madhuri looks exquisite in her blue Saree accessorised with shiny jewellery, her bold yet soft makeup look. however, what acted as the cherry on top was nothing but her smile that always ends up bringing a small on our faces as well. The song was a super hit and became the epitome of all wedding songs played at Indian weddings.
4] Channe ke Khet Main
Another hit by Madhuri Dixit, the iconic song is from the movie 'Anjaam', which is directed by Rahul Rawail and stars Madhuri Dixit, Shah Rukh Khan, and Deepak Tijori as the main leads, the movie is about a wealthy man called Vijay who turns in to a psychopath when the girl he loved dearly got married to another man.
The song was a huge success and made Madhuri even more famous and known all over the country. Madhuri looked unreal in her Green Lahenga and her expressions were just amazing as ever. From her dance moves to her stage presence, everything about this song is just iconic.
3] Tamma Tamma
Loved the song 'Tamma Tamma' from Badrinath ki Dulhania?  Well, that one was just a trailer, the real song was from the 90's movie 'Thanedaar' starring Madhuri Dixit, Sanjay Dutt, and Jeetender Kapoor as the main leads.
No matter how successful the remake version is, the original will always be the iconic one, leaving us with bittersweet feelings and nostalgia for those golden days. As always, Madhuri was successful to make everyone a fan of her dance moves and her unmatchable expression that no well can replicate. The song is full of disco vibes as Madhuri proved her diversity as a dancer. She has proven it that she can turn from an elegant classic dancer to a Disco lover in milliseconds and rock every genre like a piece of cake.
2] Dhak Dhak Krne Lga
This song will forever remain as one of the most iconic ad best performances in Madhuri's career. the movie 'Beta' starring Madhuri Dixit, Anil Kapoor, Aruna Irani, Anupam Kher, and Laxmikant Berde, the movie was a commercial hit. but what made this movie even more perfect was the iconic song 'Dhak Dhak Karne Lga' featuring Madhuri and Anil. This song was so successful and loved that Madhuri was able to establish a name for herself among the public and audience as the 'Dhak Dhak Girl'.
From the melody of the song to the performance given by the Dhak Dhak girl, everything just screams perfection. In the song, Madhuri Dixit is seen in an Orange coloured gleaming suit coupled with Huge earrings that complimented Madhru's overall look.
1] Ek Do Teen
One of the most iconic song not only in Madhuri' s career but in the discovery of entire Bollywood, this song is just evergreen. No matter how many good remakes this song gets, the original one will always the the superior one proving that 'Old is Gold'. From the hit movie ' Tezaab', this song is enogh to get you grooving, dancing and singing along the song even if you are not very well familair with the song itself. that is the magic of this iconic peice of music.
Madhuri Dixit' s dance movesa nd expressions are the chef's kiss, making this song even more successful. In her Pink outfit, hairstyle and makeup, Madhuri just owned this song mking it her own song which no one would ever be able to replicate.