With the evolving technology, fake news is gradually interweaving with the tech fabric. From millennials to millionaires, it is affecting all genres of people. Recently, Chairman Emeritus of Tata Sons Ratan Tata has released a note related to him on the sale of liquor through Aadhaar cards. The businessman termed it "fake" backing his stance. He further clarified that he did not issue any such scheme.
The statement that had gone viral with a picture of Tata that read: "Liquor sales should be sold through Aadhaar Card. Government food subsidies should be stopped for alcohol buyers. Those who have the facility to buy alcohol can definitely buy food. When we give them free food they buy alcohol."
In response to this fake statement released by an anonymous source, the business tycoon took it to Instagram, saying, "This was not said by me. Thank you."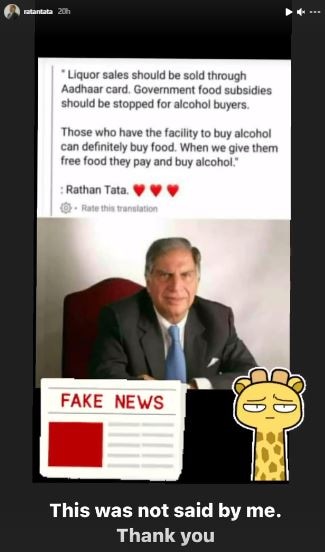 However, the hint of imposition was not limited to Tata. Earlier, Mahindra Group's Chairman Anand Mahindra tweeted about a similar deception. A highly circulated picture of Mahindra with a statement said: "Stockmarket trading should be made compulsory in middle school education".
I'm flattered that some believe my statements are quotable & I've always believed in the power of social media to democratise information & share knowledge. But the downside is wrongly attributed quotes! I'll do my best to call them out whenever possible… pic.twitter.com/2D3XrD4GpH

— anand mahindra (@anandmahindra) September 2, 2021
Mahindra took to Twitter to convey his gratitude towards the people who trusted his statement regarding the viral claims. He quoted, "The downside is wrongly attributed quotes!" He further added that he firmly believes "in the power of social media to democratise information & share knowledge." He would try his level best to battle against the spread of misinformation.