Own an iPod but do not use it anymore. Why? Is it in the absence of the facility to add new music pieces to your iPod? If that is the case, this article is just for you. For example, suppose you have an iPod that does not have internet connectivity and includes models like iPod Classic, iPod Nano, iPad Mini, or iPod Shuffle; then how to add Music to iPod? To solve this, we have come up with some useful options. Check them out below.
Before moving ahead, let us know why you should use an iPod in modern times.
Top Reasons for Using iPod in Recent Times
Since the iPod Classic release in 2001, Apple has worked on and brought its Seven generations to its users. So, is it outdated now? Well, it's a big No. It would be best if you still used your iPod owing to the following reasons;
Updating iPod with the Latest Music Pieces
You can use our suggested Software to add your iPod's latest Music. Using the Software, you can transfer your entire playlist to your iPod to listen to your favorite songs anytime.
Capacity of Storing Plenty of Songs in One Place
Are you receiving messages related to your phone's storage getting full? You can use the iPod and store your music library to make space for more things on your phone. For example, you can choose a 5GB variant or up to 160 GB.
Availability of Subscriptions
You can use music subscriptions from YouTube Music, Apple Music, or even Spotify, wherein you can check several songs. You are not charged with any data charges or any fee.
Non-Stop Music for 36+ Hours
iPod has a great battery that lasts up to 36 hours, so you can use it for days without missing your favorite music pieces. You may notice life expectancy varying with models of iPods, which also differ in storage capacities. However, it still runs better than many counterparts in excellent quality.
Amazing Sound Quality
If you trust experts from the music field, then the iPod has impressive sound quality. With built-in music chips by Wolfson, the iPod is one of the company's best designs.
Refreshing Old Memories
When you use an iPod you will get back to the old days, feeling a fresh breeze again. Using this iconic product, you will be taken back to memories of days spent with old songs.
How to Add Music to iPod Using iTunes
With iTunes, you can add Music to the iPod but make sure the Music is already added to the iTunes library. You can rip songs using CDs or can download them using the internet. Or you can buy Music from the iTunes store. Quickly follow the steps given below to get your Music on your iPod.
Step 1: Connect a USB cable to your iPod using Apple Dock's connector. You can also use a lightning port to make this connection. Open iTunes and set up your iPod.
Step 2: You will find the screen for iPod management. If not, you can go to iTunes and tap the iPod icon. Once you are done, select the 'Music' tab.
Step 3: You will find the 'Sync Music' option. Make a check on the box given beside it. It will help you download songs.
Step 4: You will see options like;
Entire music library,
Sync Selected,
Include music videos.
Step 5: Now, create a playlist and sync it. Alternatively, you can deselect the songs that you do not require.
Step 6: Now tap on the 'Apply' option given in the bottom section. The time taken for this process depends on the length of the playlist.
Step 7: You can add podcasts or audiobooks using the tabs beside the Music tab. Once you have chosen related options, sync again to transfer the content to your iPod.
How to add Music to iPod Using a Software
Using iTunes for adding music to your iPod can be the first way you come across. But you may find it a challenging, most sorted, or seamless way of doing this task. Even if you find your favorite pieces on iTunes, you may get their outdated versions or versions that may not work. What if we tell you there is a third-party dedicated Software that also assists you with many more facilities? Walter PRO is your one-stop solution for hearing your favorite music pieces on your iPod once again.
Check out its impressive specs.
Features
It is a 3-in-1 converter for Mac.
It helps in adding to Apple music.
It helps in converting files easily.
It gives an ease of drag and drop facility.
Assists with editing Metadata along with cover art.
It allows transferring virtually any kind of file to iOS.
Let us see the steps you must follow to start with Walter Pro.
Step 1: Starting the Software
Start by downloading Walter PRO on your Windows or Mac and you will be able to do syncing on your iPod without using iTunes.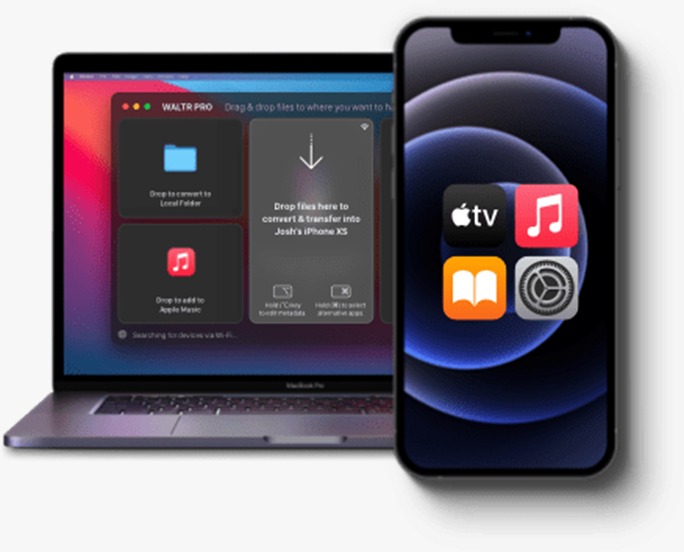 Step 2: Plugging the iPod into Your PC
If you use an iPod from the first or second generation, you will need a USB adapter and a FireWire cable. You can use a USB lighting cable if you use versions later than theirs. It would be best if you connected iPods using their cables. That's it.
Walter PRO will synchronize with your iPod in an instant. You can also use Wi-Fi to connect your iPod wirelessly. For example, you can use the wireless mode for transferring songs wirelessly on your iPod.
Step 3: Dragging and Dropping any Music File in the Software
Go ahead with dragging and dropping your favorite Music to iPod one by one or in the form of folders. Even if the songs are in a format that is not compatible with your iPod, you can convert them using Walter PRO. You can restore your songs to FLAC, M4A, MP3, APE, AIFF, etc.
Bonus Tip: Downloading Music from YouTube on your iPod
You can use YouTube to listen to your favorite Music. However, what if you want to make it available offline to enjoy driving, working, studying or working out, etc.? Well, you need an option that avails Music without internet connectivity. So Softorino YouTube converter two can be of help to you. So let us see how it works.
Step to Use
Step 1: Start by downloading the Software on your Windows or Mac. Even in the free trial, you will find unlimited mp3 and video download facilities.
Step 2: Launch the Software and open your favorite YouTube song using the in-app browser. Go ahead by adding it to the download queue. You will see a preview of the Music in the top section.
Step 3: Now, make a selection for audio. Then tap on the option for 'Save to.' Here you need to tap on the icon of 'iPod.' Check whether you have connected your iPod to your PC using a cable.
Step 4: Now tap on the 'Convert and Transfer' to download and transfer Music to your iPod.
Final Words
After going through our writeup, we hope you can find an answer for how to add Music to iPod. Using iTunes for adding Music to your iPod is a straightdforward way. However, drawbacks like outdated versions make it less valuable to you. Walter PRO will enhance your experience by using its policy of any format to any destination. Its ease of use will make the process seamless for users. As a bonus tip, we also gave you an insight into Softorino YouTube converter 2, which helps you download Music for your iPod using YouTube. So, go ahead and enjoy your favorite Music on your iPod instantly.