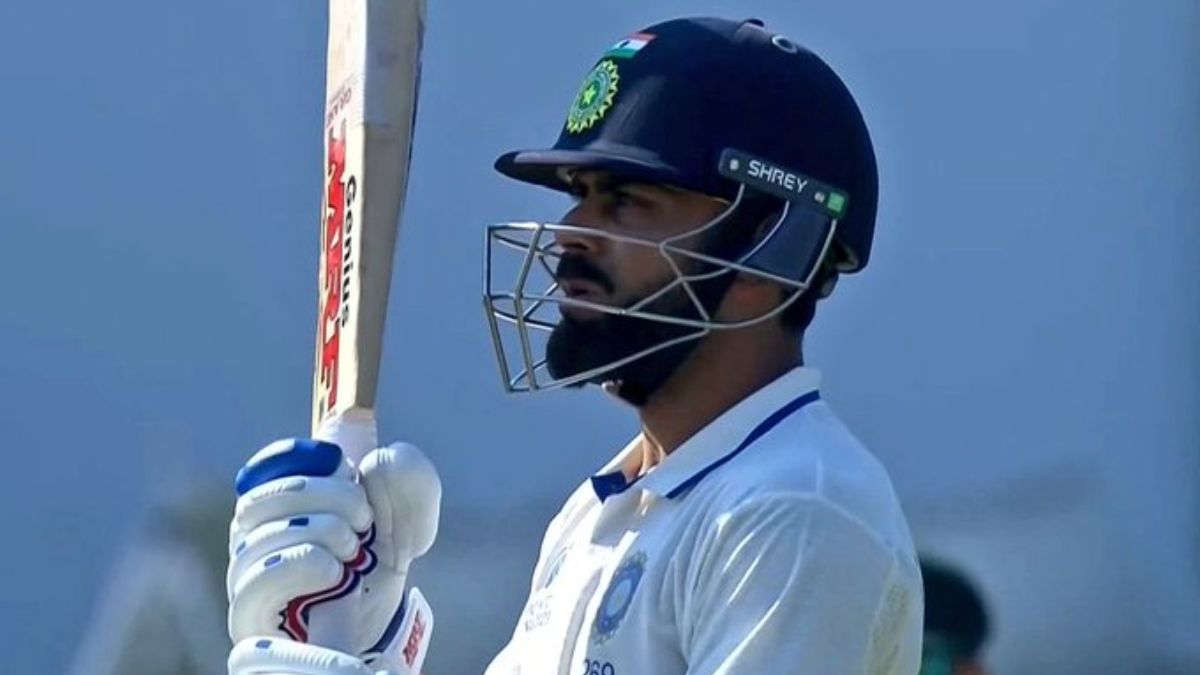 Virat Kohli and Ajinkya Rahane formed a crucial partnership to take team's score to 150 runs in the WTC Final 2023 against Australia.
Chasing a tough target of 444 runs, their resilience gives hope to fans as Day 4 nears its end.
Earlier, Rohit Sharma and Cheteshwar Pujara had a 50-run partnership, but both departed in quick succession. The duo's presence at the crease is vital for India's chances. The match hangs in the balance, and spectators eagerly await the outcome of this thrilling contest, which showcases the spirit and thrill of Test cricket.
Pujara's wicket –
The Day 4 action of the highly anticipated ICC World Test Championship Final witnessed yet another setback for the Indian cricket team as Cheteshwar Pujara gave away his wicket cheaply. Following the departure of Rohit Sharma, Pujara's dismissal has further deepened the hole India finds themselves in against Australia.
Pat Cummins, the Australian paceman, delivered a well-directed short ball just outside off stump, tempting Pujara to play a shot that was far from his usual style. In an uncharacteristic moment of madness, Pujara attempted a last-minute ramp shot while arching back. Unfortunately for him, all he managed was a faint edge through to the wicketkeeper, Alex Carey.
The Indian dressing room would undoubtedly be disappointed by Pujara's unexpected shot selection, considering his reputation as "the wall" known for his resilience and defensive technique. The attempt at a T20-like shot was the last thing anyone would have anticipated from Pujara in this crucial match.
Rohit Sharma's wicket – 
Rohit Sharma fell prey to an LBW dismissal. Nathan Lyon bowled a delivery that trapped Rohit in front of the stumps, leading to the on-field umpire raising his finger. Rohit immediately opted for a review, hoping for a lifeline by questioning whether the ball had pitched outside the leg stump. However, the replay showed that there was no bat involved, and the ball was indeed hitting the stumps.
The ball-tracking technology confirmed that Lyon's delivery pitched on the middle stump and would have gone on to hit the off stump, leaving no doubts about the correctness of the decision. It was a significant wicket for Australia, with Lyon striking in his very first over. Rohit, who was looking settled and had scored 43 runs off 60 deliveries, attempted an ambitious lap shot but failed to connect with the ball. The delivery drifted on a length and straightened past the bat, catching Rohit off guard.
Realizing the gravity of the situation, Rohit decided to review the decision, hoping for an overturn. However, the review only confirmed what was apparent on the field, and the Indian opener had to depart. His dismissal came as a blow to India, who are in a crucial stage of the match, chasing a challenging target set by Australia.