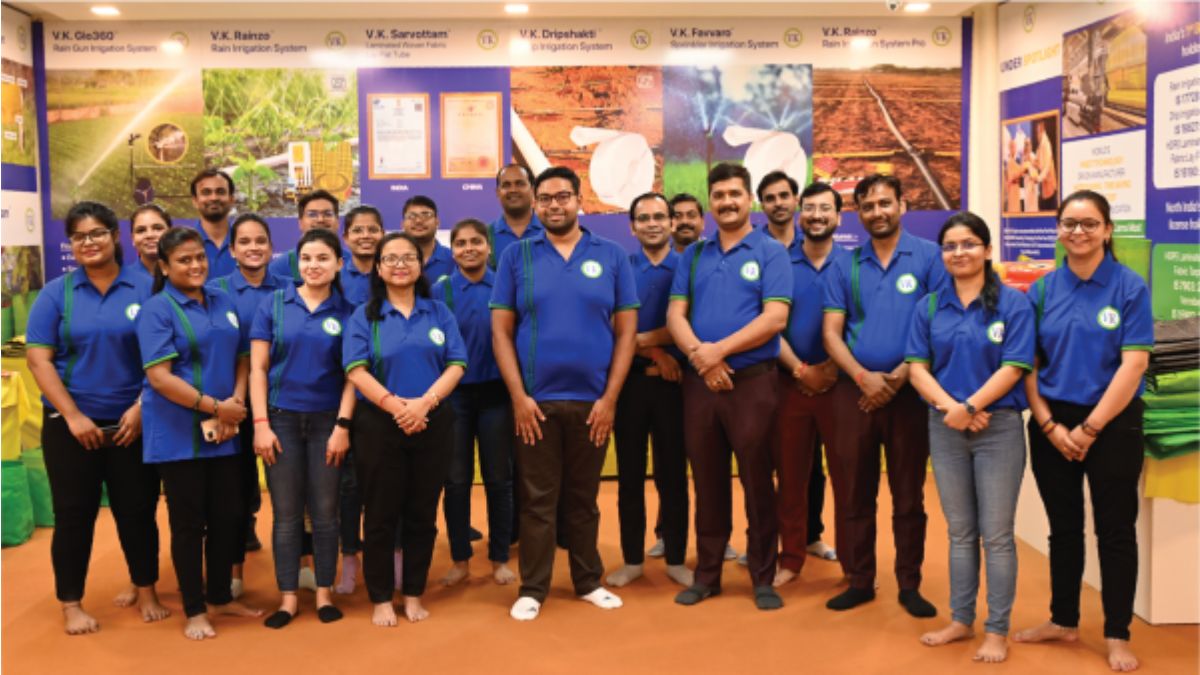 VK Packwell, India and China's ONLY patent-holding ISI mark water carrying flexible-foldable pipes manufacturing company, and India's sole patent-holding ISI mark drip, sprinkler, and micro-irrigation with flexible-foldable pipe manufacturing company, is making waves in the agricultural sector. With a commitment to serving farmers, VK Packwell has already impacted the lives of more than 71,00,000 farmers and counting.
Affordable Irrigation Solutions for All
One of the most remarkable aspects of VK Packwell's offerings is its affordability. In a market where traditional irrigation products are priced between 150 to 200 Rupees per meter, VK Packwell's innovative solutions come at approx 40 Rupees per meter. The affordability factor is further enhanced by subsidies provided by various Indian states, making these technologies accessible to farmers for approximately 20 Rupees per meter.
Pioneering Flexible Foldable Technology
VK Packwell's flexible, foldable technology is at the core of their groundbreaking success. This innovation addresses a pressing issue in India, where more than 50% of the land is undulated, rendering conventional irrigation systems ineffective. VK Packwell's products are tailor-made to serve these challenging terrains, enabling efficient irrigation even in undulated areas. This technology has the power to transform wastelands into fertile agricultural spaces, redefining the possibilities for Indian farmers.
Approved by BIS and ISI-Certified
VK Packwell's commitment to quality and innovation is further validated by its products' approvals from the Bureau of Indian Standards (BIS) and ISI certification. These marks of quality attest to the company's adherence to the highest industry standards.
Empowering Marginal Farmers
In a country where over 85% of farmers are small and marginal, VK Packwell's affordable irrigation solutions have been a game-changer. These farmers often struggle to afford expensive irrigation systems, limiting their crop cultivation to once a year. VK Packwell's technology has unlocked the potential for year-round cultivation, significantly improving income and food security for marginalized farmers.
A Solution for Every Farmer
VK Packwell recognizes that farmers across India face diverse challenges. Whether it's the undulated land in hilly terrains or the financial constraints of small-scale farming, VK Packwell aims to be the solution. Their flexible-foldable pipes and irrigation systems offer versatility and accessibility for all types of farmers.
Niti Aayog Report Reveals Rainfall Dependence: VK Packwell to Bridge Gap
In a recent Niti Aayog report, it was highlighted that a staggering 50% of India's agricultural dependence on rainfall can be attributed to affordability issues surrounding expensive irrigation systems, particularly in undulated terrains. This revelation has spurred VK Packwell, a dynamic player in the agricultural sector, into action.
VK Packwell, a company with a history of innovation, has identified a significant untapped market opportunity to address this challenge. With nearly half of India's agricultural sector relying heavily on inconsistent rainfall patterns, the potential for improvement is vast.
The affordability factor has been a major roadblock for farmers in undulated terrains, where traditional irrigation systems can be prohibitively expensive. VK Packwell aims to bridge this gap by introducing cost-effective and efficient irrigation solutions tailored to the specific needs of these regions.
Recognition within Agricultural Institutes and Government Frameworks
VK Packwell's products have gained recognition and trust within agricultural institutes and government frameworks. They have been running successfully in several Indian Council of Agricultural Research (ICAR) centers throughout the country for the past five years. This demonstrates not only the effectiveness of VK Packwell's solutions but also their alignment with the research and development initiatives of the Indian agricultural sector.
UP BEST MEME 2022 Award
VK Packwell's dedication to excellence has not gone unnoticed. The company was honored as the UP Best MSME in 2022 by CM Shri Yogi Adityanath ji, cementing its position as an upcoming industry leader.
VK's Mission: Farmer Earns Most
VK Packwell's tagline, "VK's Mission: Farmer Earns Most," encapsulates the company's ethos and unwavering dedication to improving the lives of Indian farmers. With a transformative impact that extends beyond just business, VK Packwell has redefined the possibilities of Indian agriculture. By making irrigation accessible, efficient, and affordable, VK Packwell is contributing to the prosperity of millions of farmers, rejuvenating wastelands, and ensuring food security for the nation. VK Packwell is not just an extraordinary company in the AgTech space; it is a beacon of hope for Indian farmers.
For more information, please visit: https://www.youtube.com/@VKPackwellIndia