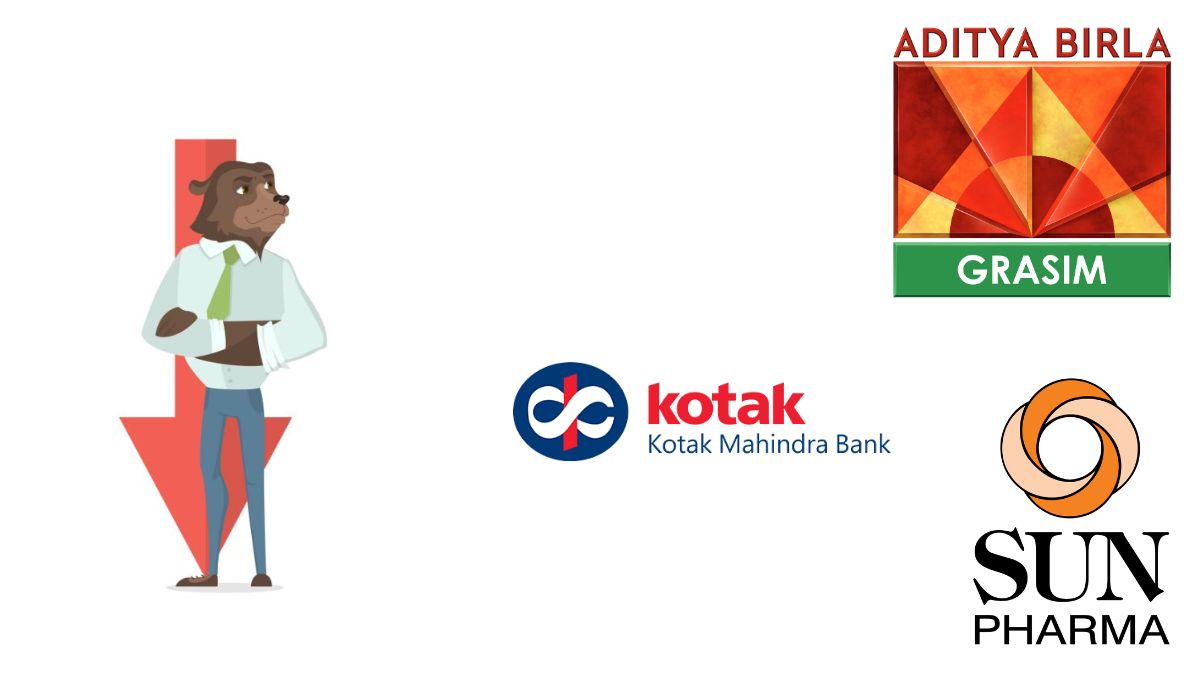 On June 8, the benchmark indices experienced a decline in a volatile trading session.
By the closing bell, the Sensex recorded a loss of 294.32 points or 0.47% at 62,848.64, while the Nifty dropped 91.90 points or 0.49% to 18,634.50. Among the shares traded, 1,457 advanced, 1,994 declined, and 106 remained unchanged.
Grasim Industries, Kotak Mahindra Bank, Sun Pharma, Tech Mahindra, and Apollo Hospitals were among the top losers on the Nifty, while NTPC, JSW Steel, ONGC, Power Grid Corp, and Larsen and Toubro emerged as the gainers.
Top Losers of Today –
| | | | | | | |
| --- | --- | --- | --- | --- | --- | --- |
| Symbol | Open | High | Low | Prev. Close | LTP | %chng |
| GRASIM | 1772 | 1776.15 | 1708.95 | 1769.05 | 1714.85 | -3.06 |
| KOTAKBANK | 1936.9 | 1936.9 | 1879.55 | 1939.4 | 1888 | -2.65 |
| SUNPHARMA | 1015 | 1016 | 983.25 | 1014.6 | 991 | -2.33 |
| TATACONSUM | 824.8 | 824.8 | 805.2 | 823.1 | 806.05 | -2.07 |
| TECHM | 1101 | 1101.5 | 1069 | 1095.7 | 1073.4 | -2.04 |
| APOLLOHOSP | 5020 | 5028.55 | 4920 | 5026.45 | 4930.1 | -1.92 |
| M&M | 1412.7 | 1415.55 | 1377.5 | 1406.4 | 1379.95 | -1.88 |
| BPCL | 367.6 | 367.6 | 360.3 | 368.1 | 362 | -1.66 |
| EICHERMOT | 3727.1 | 3727.1 | 3644.4 | 3727.4 | 3666.9 | -1.62 |
| AXISBANK | 973.05 | 974.85 | 959.9 | 976.75 | 961.7 | -1.54 |
| HINDUNILVR | 2707 | 2721.55 | 2674.9 | 2716.2 | 2677.65 | -1.42 |
| TATAMOTORS | 570 | 576.55 | 557 | 567.95 | 560.5 | -1.31 |
| DIVISLAB | 3549 | 3554.6 | 3489.05 | 3542.1 | 3497 | -1.27 |
| TCS | 3261 | 3270 | 3233 | 3274.9 | 3236 | -1.19 |
| TITAN | 2906.9 | 2921.85 | 2871.05 | 2906.95 | 2874.5 | -1.12 |
| NESTLEIND | 22460 | 22577.55 | 22087.45 | 22367.75 | 22147.6 | -0.98 |
| BAJFINANCE | 7080 | 7111 | 6995.15 | 7079.95 | 7012.75 | -0.95 |
| BAJAJFINSV | 1483 | 1485 | 1463 | 1480.9 | 1466.95 | -0.94 |
| BHARTIARTL | 847.7 | 849.4 | 834.55 | 844.25 | 836.5 | -0.92 |
| COALINDIA | 231.4 | 231.4 | 227.65 | 230.7 | 228.7 | -0.87 |
Data Source: NSE