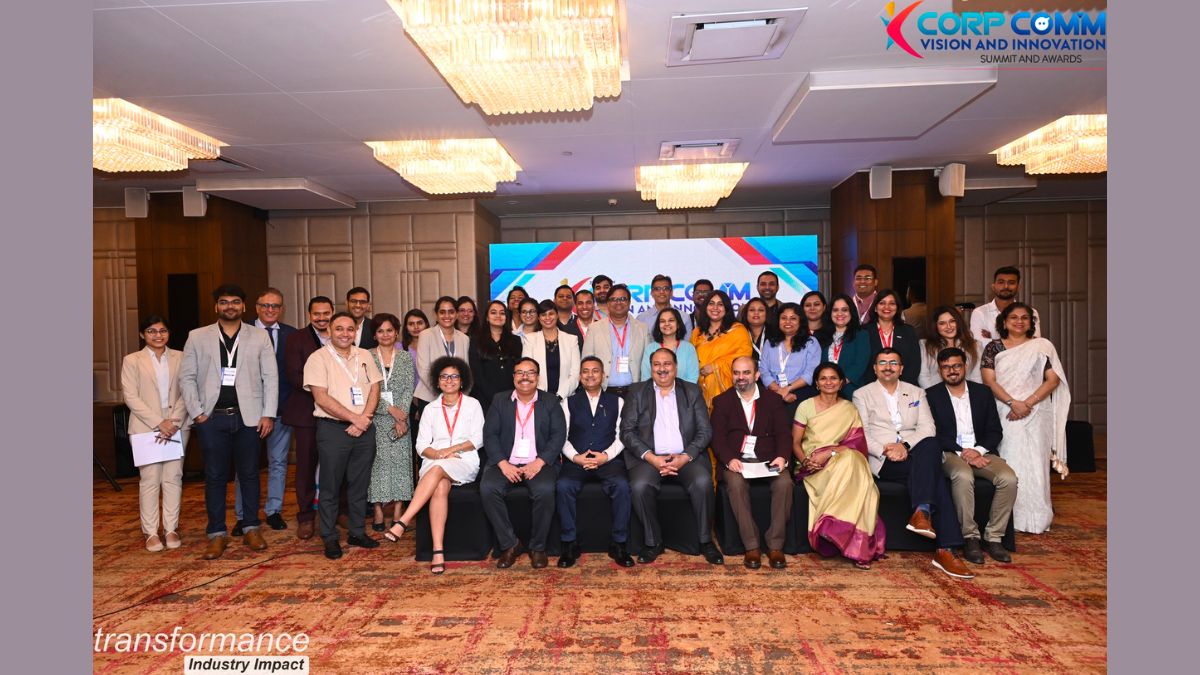 The 2nd Corp Comm Vision & Innovation Summit & Awards 2023 concluded with resounding success, bringing together esteemed leaders and visionaries from the corporate communication landscape. The event, held at Hyatt Centric Juhu Mumbai on 11th August 2023, showcased impactful Keynote session, insightful discussions and Awards & Recognition for outstanding achievers in the field of corporate communication.
Neeraj Jha's keynote session at the event was an eye-opener in every sense. With a refreshingly candid approach, he highlighted some thought-provoking aspects of the corporate communication landscape. Neeraj emphasized that we're not magicians; we're professionals with skills, attitudes, and experiences that shape the corporate communication role. He emphasizing that their role is not to conjure tricks but to manage and uphold reputation. Neeraj urged the audience to rethink the role's seniority, visibility, and integration within the organization. His casual yet impactful style left a clear message – it's time to step out of the shadows and redefine how to approach corporate communication.
The event proceeded with an engaging panel discussion led by Mr. Arun Om Lal, President of Corporate Affairs & Communication at Hexagon Nutrition Limited. The panel included distinguished individuals such as Akansha Pradhan, Head of Corporate Communications and CSR at DHL; Bibek Chattopadhyay, Head Of Communications at ArcelorMittal Nippon Steel India; Minari Shah, Director of Corporate Communications Amazon APAC at Amazon's Mr. Lal emphasized the importance of aligning corporate communication with business strategy, underscoring how effective communication can significantly contribute to achieving organizational objectives.
The subsequent panel session delved into the intricacies of Aligning Corporate Communication with CEO and Board Expectations, moderated by Mr. Rohit Varier, Director of Communications at Deloitte. The panelists, including Radhika Trivedi from Alvarez & Marsal, Shweta Munjal from Lupin, Shalini Singh from RPG Group, and Yash Bhargav from Waterfield Advisors, discussed the challenges communication professionals face in meeting the expectations of CEOs and boards. The critical role of transparent and strategic communication in building trust and alignment was emphasized by Mr. Varier.
Moving on, the Fireside Chat Session 1, led by Moderator Nandini Chatterjee, Chief Marketing & Communications Officer at PwC India, included panel members Janet Arole from Aditya Birla Fashion and Retail Ltd., Shilpashree Muniswamappa from Colgate-Palmolive (India) Ltd., Bindu Jayraj from bp, and Subrato Roy from HDFC Life. They deliberated on strategies and approaches to cultivate a forward-looking and adaptable corporate communication team capable of navigating the challenges and opportunities in the dynamic business environment.
In Chat Session 2, the transformative impact of social media on corporate communication practices was explored. The discussion, moderated by Samir Kapur, Director at Adfactors PR, included insights from Papiha Ghosh, Head of Corporate Communications at Revolut India and Debmalya Nandan, Content Lead, Corporate Communications at UltraTech Cement, on leveraging digital platforms for effective audience engagement and brand communication.
Chat Session 3, spearheaded by Shvetal Diwanji, Vice President of Group Marketing & Corporate Communications at Tata AutoComp Systems, along with Shakambhari Thakur from Bosch Group in India and Shweta Papriwal from blinkX by JM Financial, underscored the art of storytelling as a potent tool for corporate communication professionals. They highlighted its ability to resonate with audiences, foster brand affinity, and effectively convey organizational narratives.
The final session reiterated the continued significance of integrated communications in shaping the future of corporate communication. Led by Madhumita Phukan, Global Marketing Head of AI Businesses at Tech Mahindra, and joined by Kritika Saxena from Tata Consultancy Services, Ekta Bhatnagar from Teleperformance, Samriddh Tilwani from Artha Group, Masooma Pathre from Medtronic, and Srabani Sen from ZEE5 Global, the speakers discussed the pivotal role communication professionals play in orchestrating cohesive and impactful communication strategies.
A significant highlight of the event was the recognition of the Top 5 Great Indian Corporate Communication Leaders for their exceptional contributions to the industry. The esteemed awardees are:
Nandini Chatterjee – Chief Marketing & Communications Officer, PwC India
Minari Shah – Director, Corporate Communications, Amazon APAC
Shalini Singh – Group Head-Brand and Communications, RPG Group
Srabani Sen – Associate Director- PR and Communications, ZEE5 Global
Kritika Saxena – Head of Corporate Communications & Public Affairs, TCS
The 2nd Corp Comm Vision & Innovation Awards celebrated the achievements of industry leaders who have significantly contributed to the growth and advancement of the corporate communication community. Award winners include Concept PR, Glenmark, HDFC, Sociabble, Spark Minda and many others.
The event concluded on a positive note, leaving participants inspired and motivated to drive innovation and excellence in the field of corporate communication. For more information and updates on future events, please visit www.transformanceforums.com.