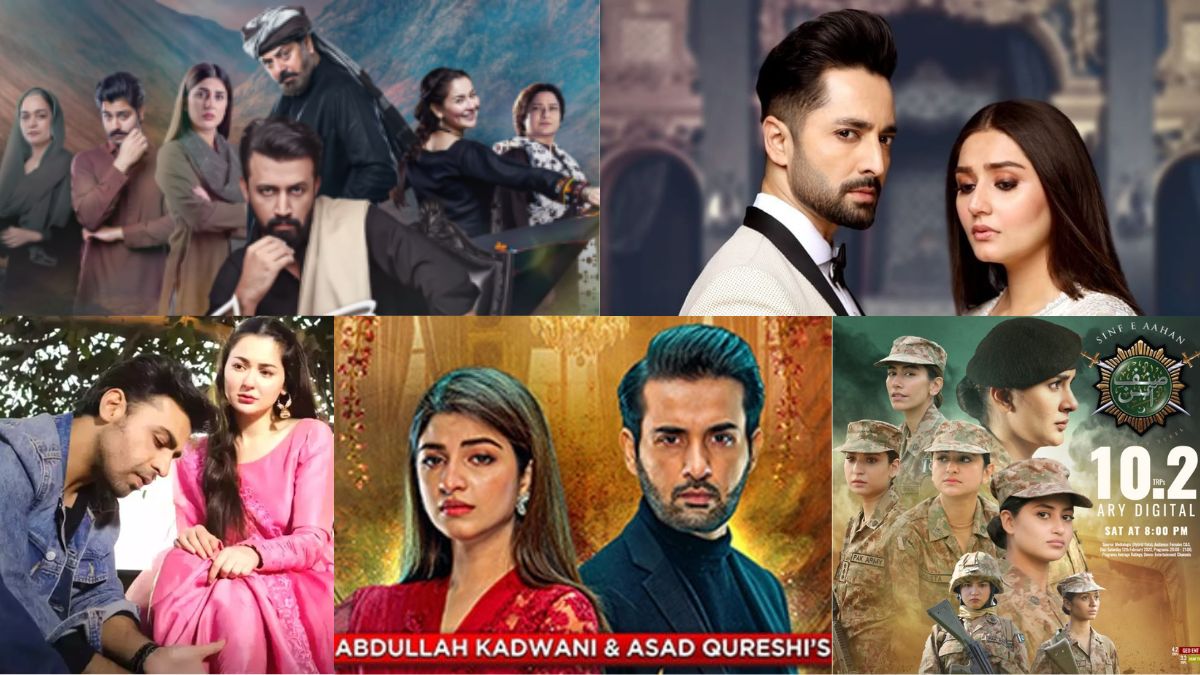 Over the course of a year, Pakistan's drama business produces many shows, and the most of them typically follow the same plot about marital or family problems. With each passing year, Pakistan's entertainment industry continues to expand as new performers join the ranks of well-known actors. The production of content that has a personal connection to viewers, helping to draw in more viewers, may be the cause of the growth. In contrast to international TV shows, Pakistani dramas often have shorter storylines and air their final episode after two or three months of production.
Drama serials in Pakistan end up setting records every year as the business develops. Here is a list of the Top 5 Best Pakistani Dramas of 2022 that attracted the most viewers and received the highest ratings, but there are some titles that stick out a little from the rest and receive the respect they deserve.
Here's list of top Pakistani shows
Sang-e-Mah
The idea of "Gagh," a Pashto word that means an announcement of marriage by a man to a girl, is crucial to Sang-e-Mah. The Pakistani drama, which was directed by Saife Hassan, centres on the idea of "Gagh" and the persecution of women in the nation's tribal regions.
The fact that the drama serial stars actors like Atif Aslam, Hania Aamir, Kubra Khan, Nauman Ijaz, Samiya Mumtaz, Sania Saeed, Omair Rana, Hasan Noman, and Najiba Faiz—some extremely well-known figures in the local entertainment sector—is another factor in the positive reception to the project.
Dil Awaiz
Due to its unique story line, which centres on a little girl, Dil Awaiz, who is mistreated by her own father, an influential and rich businessman, because of her mother's past, is born. From the moment of her birth, he distances himself from his daughter, which causes her to live a wretched life.
However, when a charming young man named Sikandar enters Dil Awaiz's life, things only grow worse because she is expected to make compromises and self-sacrificing decisions in order to preserve the honour and respect of her family. The Drama serial is written by Mahida Shahid and is directed by Mazhar Moin.
Mere Humsafar
Hala, a little girl whose father abandons her in her parental home where she is abused, is the focus of the drama Mere Humsafar. But when her cousin comes home from abroad, he marries her and treats her with the respect she deserves and needs.
An incredibly well-known cast, including Farhan Saeed, Hania Aamir, Saba Hameed, Waseem Abbas, Tara Mahmood, Aly Khan, Omer Shahzad, and Zoya Nasir, was gathered for the drama serial, which was produced by Humayun Saeed and Shehzad Naseeb under the auspices of Six Sigma Plus.
Sinf-e-Aahan
Next Level Entertainment, Six Sigma Plus, and Inter-Services Public Relations worked together to produce Sinf-e-Aahan (ISPR). The drama serial, which was written and directed by Umera Ahmed, centres on the lives of seven females from various origins whose circumstances alter after enlisting in the army.
From 27 November 2021 until 7 May 2022, a 24-episode drama series starring Sajal Aly, Kubra Khan, Yumna Zaidi, Ramsha Khan, Syra Yousaf, and a Sri Lankan actress named Yehali Tashiya was shown on television. Sheheryar Munawar, Dananeer Mobeen, Usman Mukhtar, Asim Azhar, and Merub Ali are a few of the regular cast members.
Kaisi Teri Khudgarzi
The main character of the drama series is a businessman named Shamsher who will do anything to capture the heart of Mehak, a girl from a middle-class family. Kaisi Meri Khudgarzi, which was written and directed by Radain Shah, is regarded as one of the top family drama television shows for 2022. A-list actors Danish Taimoor and Dur-e-Fishan Saleem play the key parts in the drama. Laiba Khan, Laila Wasti, Noman Aijaz, Atiqa Odho, Hammad Shoaib, Zainab Qayyum, Shahood Alvi, Tipu Shareef, Emad Butt, and Shehzeen Rahat are additional cast members.