Bigg Boss 15 Public Winner Pratik Sehajpal is the real winner as viewers are not over Pratik Sehajpal not wining the trophy. Pratik Sehajpal started from Bigg Boss OTT and ended up taking the price money bag and walked out from the house. Pratik then entered Bigg Boss 15 and creates  a history.
Pratik Sehajpal's Loyalty: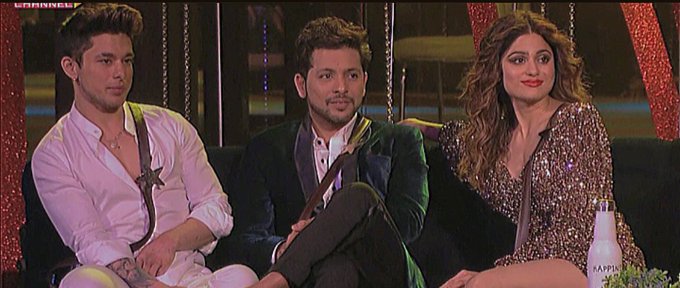 Image Credits-@SimranAstha/Twitter
Pratik then entered Bigg Boss 15 where he made friends and he was loyal to them. Pratik Sehajpal always stood by his relations and fought for them. He sacrificed, loyal and played for his people in the house. Pratik shared a special bond with Shamita, Nishant and Devoleena in the house. He played for Devoleena and tried to make Rashami fall from the pillar. He played for Nishant in tasks and stood by Shamita.
Pratik 'The Task Performer': 
Image Credits-@PratikOffcialFC/Twitter
Pratik Sehajpal performed all the tasks from day one and had the never give up attitude. From his own team member not letting him play, to breaking the oppositions game from playing with the mind or body. Pratik performed all the tasks and graced it even when allegations were claimed of being aggressive and provocation. Pratik was alleged of crossing his limits, pushed but he gave it back by his performance.
Pratik's actions speaked louder than his words:
Pratik was known for his one liner during heated arguments. Pratik once said,"Trophy jeetne aaya hun trophy jeetke hi maanuga rok sako to rok lo " During his argument with Rashami Desai, when the actress said that he is brainless; Pratik said,"Me bael buddhi hu, par aap to pure bael ho". Pratik Sehajpal said during an argument,"Tone jaisi aapki hogi waise meri hogi"
Pratik Sehajpal always believed that action speaks louder than words and he let both of them speak. During and argument with Karan Kundrra, Pratik said,"Usko lagta hai toh bolta rehega aur koe kuch naho bolega, usko bol do mein idhar hi hu."
Emotional side of Pratik:
Image Credits-@AryanRa45355661/Twitter
Pratik Sehajpal showed each side and all the shades of his personality. Pratik was seen emotional and in tears when he was accused of touching girls during tasks, not respecting girls, being aggressive in tasks, words spoken on his family and many more. Pratik once said," I want to know till what extend they can go." He shown each side of him and was real in the show which touched hearts.
Image Credits-@quinnethoughts/Twitter
Pratik Sehajpal won many hearts and that is the reason fans tell he is not the trophy winner but the Public winner!