Alice in Borderland Season 3 is expected to be released soon, according to a Netflix post. Fans are going crazy after Netflix Japan shared an image on the social media website X (previously known as Twitter). The cryptic post is simply an image of a deck of cards that must be interpreted in order to disclose a hidden message.
When translated into English, the caption for the post reads: "Please decipher the message hidden in these 10 playing cards. Answers will be held on September 28th."
The caption is accompanied by a joker emoji, which adds to the appeal for admirers. Fans deduced that the mysterious statement is Netflix's method of informing fans that an Alice in Borderland season 3 would be released shortly.
Haro Aso developed the Japanese manga series Alice in Borderland, which was later adapted into a Netflix live-action series. Arisu, a high school student, and his pals are taken to a parallel reality where they must compete in a variety of deadly games in order to survive.
https://x.com/NetflixJP/status/1706805858934681762?s=20
The above-mentioned Netflix Japan post on X (previously known as Twitter) previewed a set of ten cards with a message to followers that they needed to decipher them for a secret message.
Many fans began decoding the code, and they even broke the enigmatic phrase to reveal information about Alice's comeback in Borderland season 3.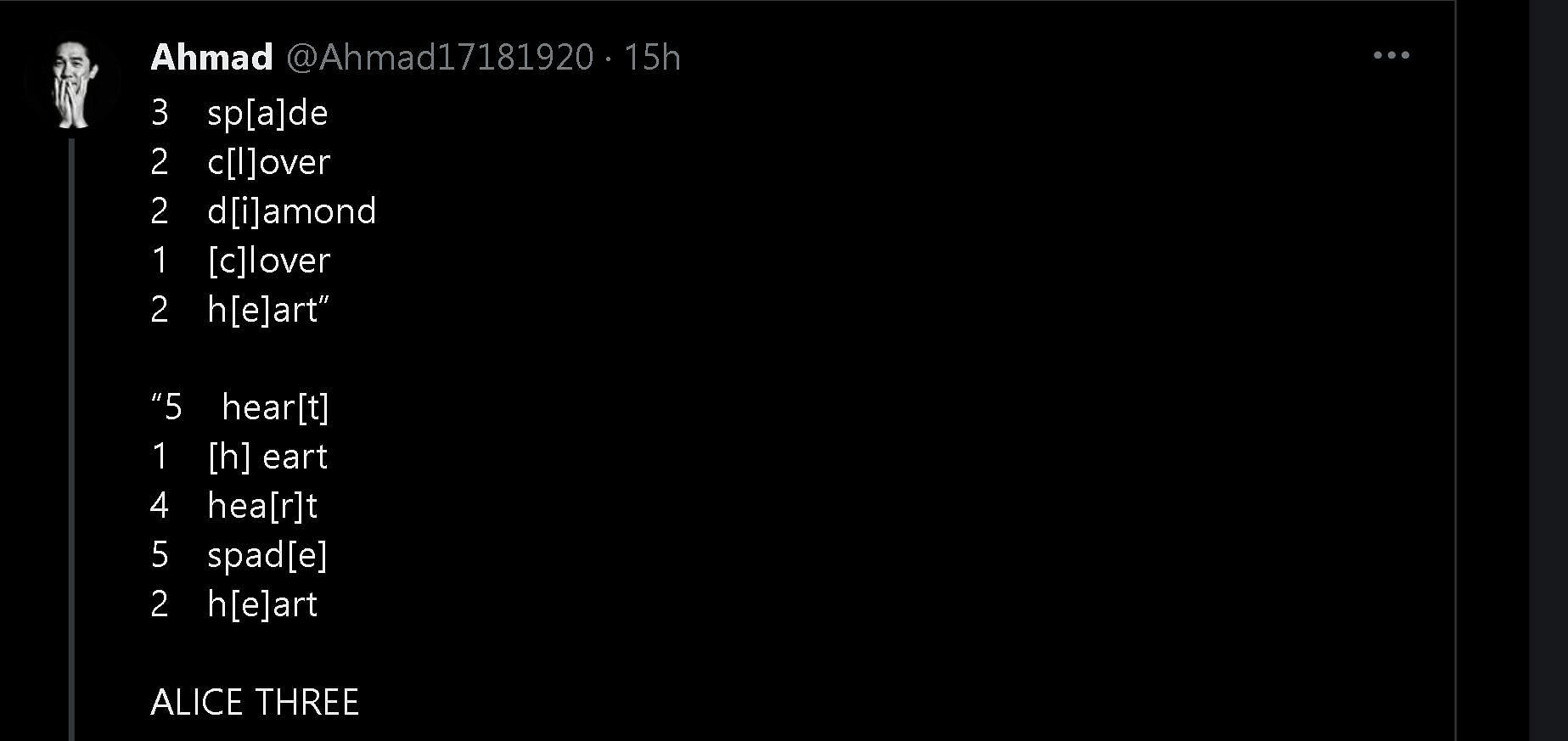 Credits: X (Formerly known as Twitter)
The live-action series' season 2 grand finale maintained true to Alice in Borderland by Haro Aso's original source material to the very end. The interaction between Joker and Arisu, one of the most intriguing from the manga chapters that fans eagerly anticipated, was omitted from the translation.
The caption of Netflix's enigmatic image hints at Joker, one of the antagonists from Haro Aso's original manga series of the same name. Season 3 of the series will very certainly contain the feared enemy depicted in the manga.
The series only showed the enigmatic Joker's distinctive card, rather than his physical form, at the end of an episode as the wind swept through a littered deck of cards on a table.
Season 3 of Alice in Borderland is expected to differ slightly from the manga, as season 2 covered the final manga chapters. Season 3 has no more source material to adapt, and with a series renewal already rumoured, people are eager to see what happens next in the live adaptation.