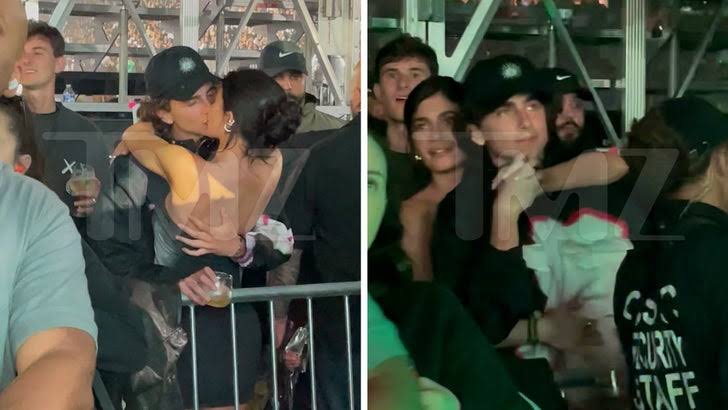 In a surprising turn of events, reality TV star and makeup mogul Kylie Jenner and Hollywood heartthrob Timothée Chalamet took their relationship public with a sizzling display of affection at Beyoncé's 42nd birthday concert at SoFi Stadium in Los Angeles on Monday night.
Fans were quick to capture the moment as the couple passionately engaged in public displays of affection during Beyoncé's special performance. Kylie and Timothée were spotted in the VIP section, alongside a star-studded lineup of celebrities, including Kylie's sister Kendall Jenner, Lori Harvey, Justine Skye, and Justin and Hailey Bieber. Adele, Zendaya, and Kim Kardashian also graced the event with their presence.
The footage clearly shows Kylie and Timothée embracing and sharing passionate kisses in full view of the excited crowd. Witnesses reported that the pair remained close throughout the night, showing no hesitation in expressing their newfound love for each other.
The public outing of this high-profile couple has already generated significant buzz across social media platforms, leaving fans and followers eagerly anticipating more glimpses into their blossoming romance. As the world watches, Kylie Jenner and Timothée Chalamet's love story continues to unfold in the spotlight.