Recently, the legendary actor Rajinikanth recently surprised the world of entertainment with a touching letter written for the much anticipated movie Chandramukhi 2.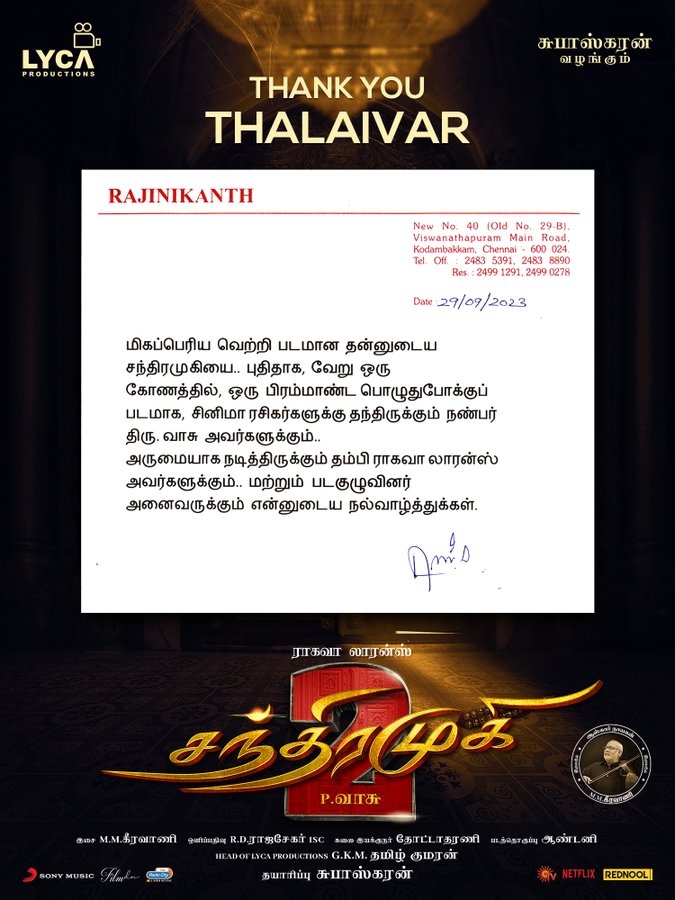 Rajinikanth wrote a note in which he expressed his sincere gratitude to the movie's director, P Vasu, and its star, Raghava Lawrence. Interestingly, the talented lead actress Kangana Ranaut, who has a prominent role in this horror-drama, was notably absent from the note.
Rajinikanth thanked Director P Vasu for his ability to recreate and portray Chandramukhi in a compelling and new way that will certainly please moviegoers in a heartfelt statement. In addition, Raghava Lawrence's outstanding performance in the movie received praise from Rajinikanth, who appreciated the actor's outstanding contribution to the production. The Chandramukhi 2 production company, Lyca Productions, eagerly shared Rajinikanth's note on their platforms and professed their sincere gratitude for the legendary actor's kind words.
Raghava Lawrence came to Twitter to thank Rajinikanth for his unexpected gesture after being simply honoured by it. He expressed his deep gratitude for Rajinikanth, calling him his "Brother, Guru, and Thalaivar Superstar," in an enthusiastic tweet that highlighted the significance of Rajinikanth's support for Chandramukhi 2.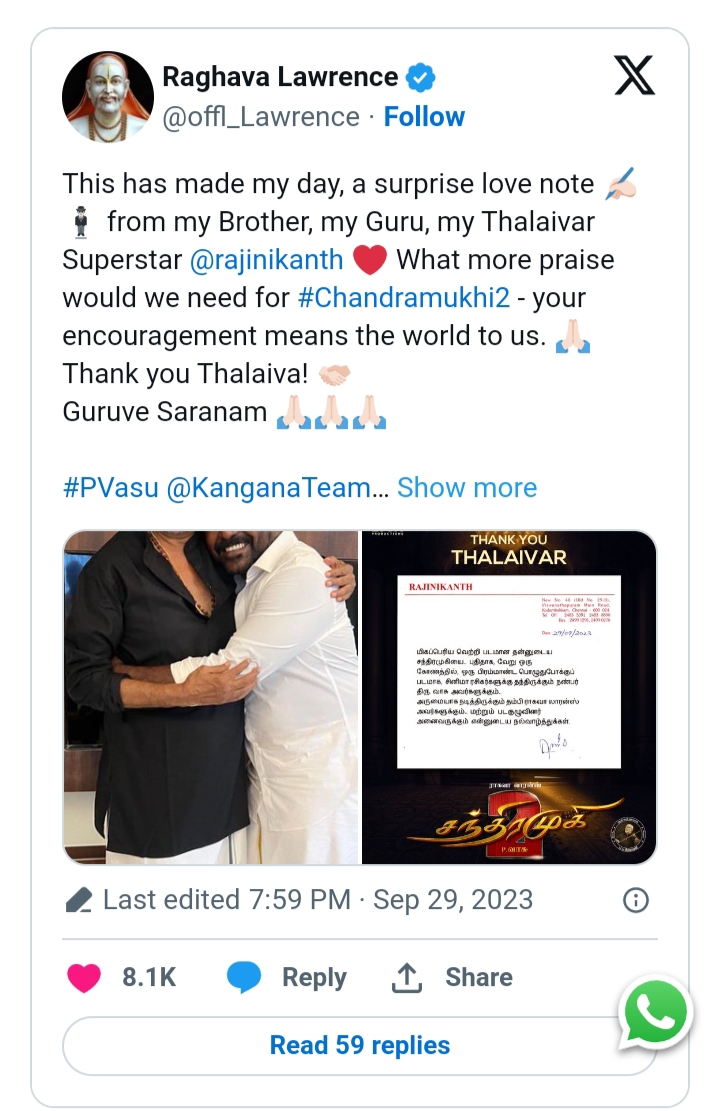 Kangana Ranaut used her own platform to show her gratitude even though she was noticeably absent from Rajinikanth's note. She mentioned in her message that Thalaivar Rajinikanth had sent her a letter of gratitude in appreciation for Chandramukhi 2's success.
A absolutely talented cast put together including Vadivelu, Radhika Sarathkumar, Srushti Dange, Lakshmi Menon, and Mahima Nambiar, is featured in this much awaited movie. On September 28, Chandramukhi 2 made its theatrical premiere. It received a variety of reviews from reviewers and had a slow start at the box office.