Two sold-out performances in Bengaluru marked the beginning of the most costly India tour ever for the celebrated 26-year-old Dutch DJ/Producer Martin Garrix. For the following five days, the two-time MTV EMA winner and four-time world's top DJ will travel Chennai, Hyderabad, Pune, Mumbai, Kolkata, New Delhi, and Ahmedabad.
When Ranbir Kapoor joined DJ Garrix on stage in Bengaluru, fans were prepared for a royal treat. As soon as Garrix entered the stage, the movie star, who is now busy promoting his forthcoming picture, was spotted giving him a hearty embrace. As the single "Together" played out, the crowds went wild as the duo used the console to manage the crowd. Kapoor was a total sport as he displayed his electronic dance music enthusiast character.
Garrix was also seen folding his hands and thanking Ranbir on stage like a true humble superstar and also talked about how Kapoor had a new movie releasing that they were celebrating together! The highlight of the night was ofcourse was Kapoor getting Garrix to say "Mera Bharat Mahaan" in Hindi in a single take as he exited the stage. He shared the photos on Instagram and wrote, "Bangalore day 2… speechless.. what a special night & thank you to Ranbir Kapoor for joining me on stage!"
With this Sunburn tour, the world's top DJ makes his sixth trip to India after a successful run in the country in 2018. One of the "biggest stadium presentations to be experienced in India" this year, Sunburn, Asia's largest dance music festival, will deliver eight events spread throughout eight major megacities over the course of two weekends.
Indian spectators can anticipate a euphoric sold-out stadium concert from the famous DJ/Producer, who first appeared on the music industry in 2012 and is best known for his hits Animals, In the Name of Love, Summer Days, and Scared to Be Lonely.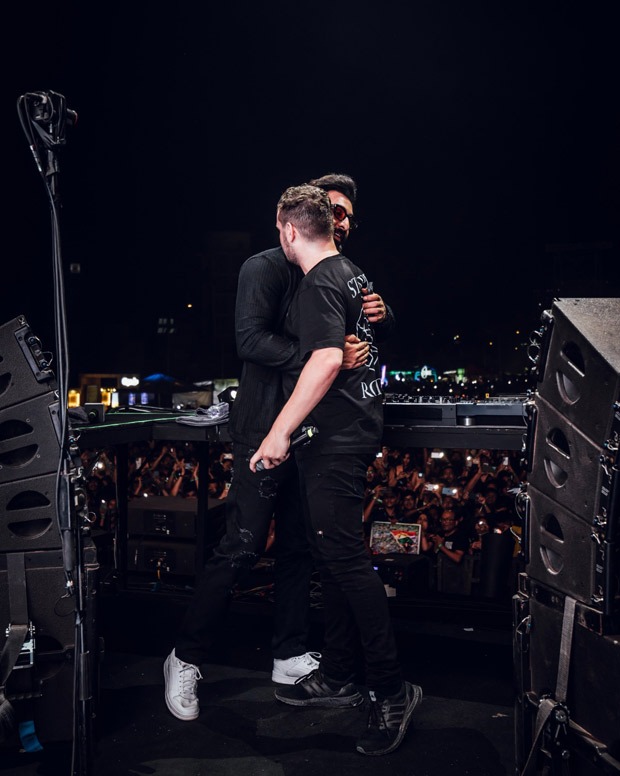 Ranbir Kapoor said on stage, "Let's hear it for the greatest DJ music producer Martin Garrix. I just got to say one thing guys, stay positive, stay humble, be in love, be high on life. Put on your phones, let's do this together"
Martin Garrix says, "India is one of my favourite countries to perform at and it's good to finally return and party with all my fans. It was great to have Ranbir Kapoor join me on stage last night."
Karan Singh, CEO, Sunburn said, "We are thrilled to have begun the eight city Sunburn Arena tour with one of the biggest names from the global dance music circuit, Martin Garrix with such a bang. We are delighted that Ranbir Kapoor joined Martin Garrix on stage to give the Bengaluru crowd the surprise of their lifetime! This will certainly go down as one of the most epic moments in the history of Sunburn. The next few days are going to be pure madness."