 New York , Nov. 21, 2023 (GLOBE NEWSWIRE) — The global automotive glass market size is estimated to attain at 6% CAGR from 2024 to 2036 The market is expected to garner a revenue of USD 40 billion by the end of 2036, up from a revenue of USD 25 billion in the year 2023. This growth of the market is set to rise on account of growing demand for automotive. Globally auto sales climbed from approximately 65 million vehicles in 2021 to approximately 66 million vehicles in 2022. As a result, the market revenue for automotive glass is also growing.
Request Free Sample Copy of this Report @ https://www.researchnester.com/sample-request-4500
It is a specialty glass that possesses excellent heat-absorbing capabilities that preserve a cool, comfortable interior temperature in the vehicle. It has less energy gearbox than ordinary glass and lessens the stress on the air conditioning equipment, which improves the vehicle's fuel efficiency. It also offers advantages comparable to those of using sunscreen with an SPF of 50 or higher by blocking up to 98% of the sun's damaging UV radiation.
Automotive Glass Market: Key Takeaways
Market in Asia Pacific to capture the highest market share.
Laminated glass segment to generate the largest share in the market.
Market in Europe to have notable growth in the market.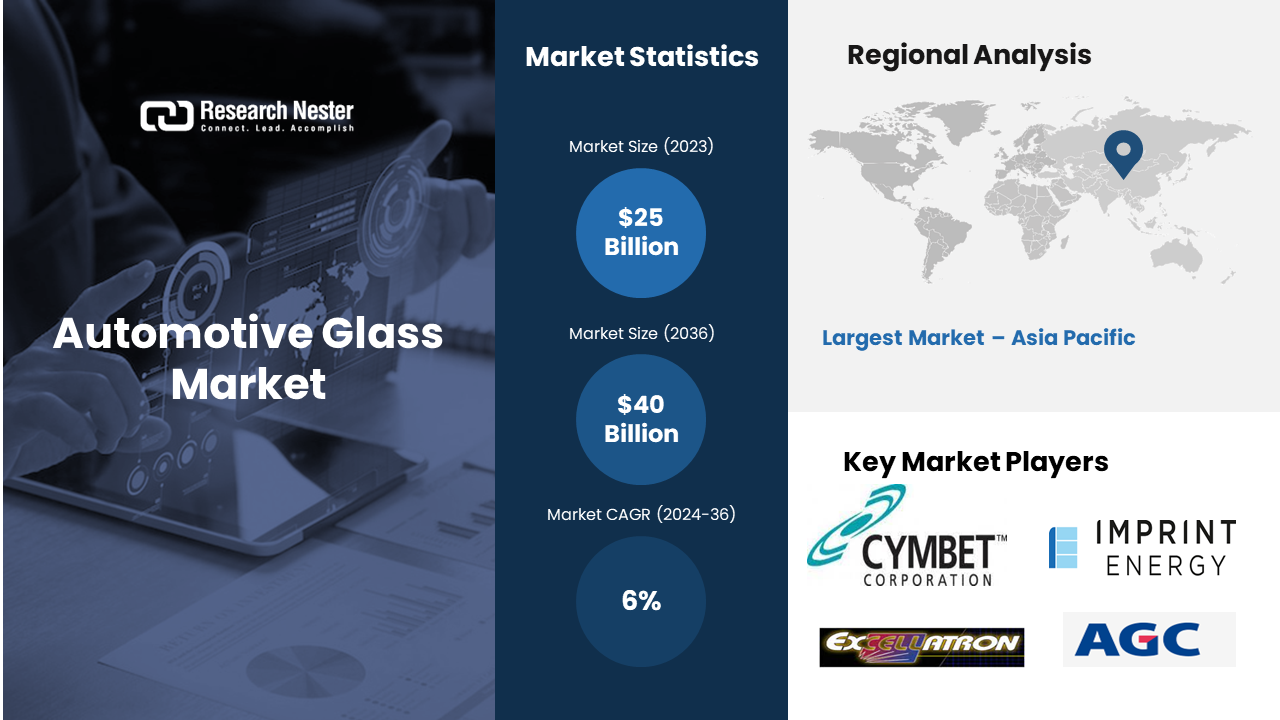 Rising Urban Population to Boost the Growth of Global Automotive Glass Market
Globally, about 2 billion people reside in rural areas and close to 3 billion in metropolitan areas as of 2021. From about 750 million in 1950 to over 3 billion in 2021, the world's urban population has expanded quickly. By 2050, it is expected to reach approximately 5 billion, with an additional about 2 billion people living in urban areas. Hence, this is further expected to boost the demand for automobiles. A large number of people in urban regions are considered to be middle-class or working-class populations who prefer buying automobiles. Consequently, this is additionally projected to influence the market expansion.
Automotive Glass Industry: Regional Overview
The global automotive glass market is segmented into five major regions including North America, Europe, Asia Pacific, Latin America, and the Middle East and Africa region.
Surge in Disposable Income to Drive the Market Growth in Asia Pacific
The Asia Pacific market for automotive glass is projected to generate the highest market share of about 42% over the coming years. The main factor to encourage the market share is rising disposable income. India is expected to experience the most real wage growth in the Asia-Pacific region, with about 5% growth, followed by Vietnam at approximately 4% and China at close to 2%. As a result, the spending on purchasing automobiles is rising further influencing the growth of the market.
Rise in Demand for Electric Cars to Influence the Market Expansion in Europe
The Europe market for automotive glass is estimated to have noteworthy growth over the coming years. The growth in this region's market is projected to grow on account of rising demand for electric cars. With electric vehicles representing about 20% of newly registered automobiles in the EU in 2022, significant progress has been made in the widespread use of electric cars and vans. registrations of electric cars increased to nearly two million in a single year from approximately 1,73 million in 2021.
Make an Inquiry Before Buying this Report @ https://www.researchnester.com/inquiries-before-buying-4500
Automotive Glass Segmentation by Product Type
Laminated Glass
Tempered Glass
The laminated glass segment is projected to gather the highest share of about 55% over the coming years. The major element to influence the segment expansion is growing production of automotive. Global car production in 2022 increased by 4% from 2021 to almost 84 million units.
Automotive Glass Segmentation by Fuel Type
Internal Combustion Engines
Electric Vehicles
The electric vehicles segment is set to have notable growth over the forecast period. This growth of the segment is projected to be encouraged by rising demand for hybrid vehicles. The worldwide sales of new plug-in hybrid electric vehicles reached approximately 3 million in 2022.
Automotive Glass Segmentation by Vehicle Type
Passenger Vehicles
Commercial Vehicles
Automotive Glass Segmentation by Application
Windshield
Door Glass
Back Glass
Quarter Glass
Vent Glass
Moon/Sun Roof
Automotive Glass, Segmentation by Distribution Channel
Original Equipment Manufacturer (OEM)
Aftermarket
A few of the well-known market leaders in the global automotive glass market that are profiled by Research Nester are AGC Group, Enfucell Oy, STMicroelectronics International N.A., LG Chem, Ltd., Cymbet Corporation, Imprint Energy Inc, Jenax Inc., Samsung SDI Co, Ltd., Excellatron Solid State, LLC., Angstrom Engineering Inc., Asahi Glass Co., Ltd., Nippon Sheet Glass Co., Ltd., Central Glass Co., Ltd., Denso Corporation, Hitachi Automotive Systems, Ltd., Bridgestone Corporation, Toyoda Gosei Co., Ltd., Sumitomo Electric Industries, Ltd., and others.
Request for Customization of this Report @ https://www.researchnester.com/customized-reports-4500
Recent Development in the Automotive Glass Market
In order to improve and enhance the in-car experience, AGC Group and Eyelights partnered to integrate augmented reality capabilities into series automobiles. The driver will gain further advantages from the combination display and windscreen technologies.
A strategic collaboration agreement was signed between Fuyao Glass Industry Group Co., Ltd. and BASF to expand the partnership's current parameters to include co-creation of new business development for the automobile industry.
About Research Nester
Research Nester is a one-stop service provider with a client base in more than 50 countries, leading in strategic market research and consulting with an unbiased and unparalleled approach towards helping global industrial players, conglomerates and executives for their future investment while avoiding forthcoming uncertainties. With an out-of-the-box mindset to produce statistical and analytical market research reports, we provide strategic consulting so that our clients can make wise business decisions with clarity while strategizing and planning for their forthcoming needs and succeed in achieving their future endeavors. We believe every business can expand to its new horizon, provided a right guidance at a right time is available through strategic minds.

Disclaimer: The above press release comes to you under an arrangement with GlobeNewswire. Business Upturn takes no editorial responsibility for the same.